In 2005, Amy Blackwell visited Nicaragua as part of a group ministry to work with children in an orphanage. "For me, traveling to a third-world country was life changing," she recalls. "It made me appreciate what we have in the United States—things we just take for granted, like hot water and air conditioning. The folks I interacted with were extremely poverty stricken, but they were happy. While teens in the U.S. might get mad if they don't get an iPad for Christmas, these kids were excited to get a pencil."
Blackwell, who is the associate vice president for finance at Furman University in Greenville, S.C., continued the trips for eight or nine summers. During the visits, she got to see and become acquainted with Ana, a girl she sponsored with monthly donations. Blackwell keeps in touch with Ana, now grown, through Facebook.
Married to John for 24 years, Blackwell likes to garden and crochet in her spare time. "When I was about 10, my uncle taught me to crochet," she says. While admitting that crocheting is becoming a lost art, she describes the hobby as "something I can do when I'm relaxing in the evening."
You've stayed with Furman University for 26 years. Do you have any regrets about staying so long?
I get bored sometimes. When you master a task, you can get bored with it—or I do anyway. Fortunately, my boss for the last 11 years has given me lots of opportunities to do different things.
I don't have any regrets, though; I have been fortunate to spend most of my career at Furman. Some folks may want to move on to different institutions for new experiences, but Furman is a perfect fit for me right now.
What advice might you offer others with regard to a career path?
It depends on their personalities and goals. If they start out thinking that they want to be a vice president or president, I would probably recommend getting experience at different institutions. I have no desire to be president, but the possibility of being a vice president is intriguing.
When you coordinate the development of the university's five-year financial projections, what factors do you take into account?
The institutional priorities are guided by our strategic plan. Our vision, called The Furman Advantage, is currently driving all our decisions.
We are very tuition dependent. Anything around enrollment is critical. We look at our demand statistics, what sort of tuition increases we might make, and what our discount rate looks like. At the same time, we need to make sure that we have competitive faculty and staff salaries.
We also consider the consumer price index, the higher education price index, and whether we have any capital projects on the time horizon.
What topics are your trustees' financial management committee members currently wrestling with?
The top one is funding for The Furman Advantage. There's a national conversation around the cost of higher education. Furman is fairly expensive. We're looking at low tuition increases and a high discount rate. We're wrestling with the fact that costs are escalating at a higher rate than we can increase tuition amounts.
How do you handle that?
We have to drive demand and increase the value proposition, while operating as efficiently as we can.
What are three key trends in the budget area that you have noticed?
In the last few years, particularly since the recession, we're experiencing lower tuition increases, higher financial aid, and increasing health-care costs.
In terms of health costs, we have a self-funded health-care plan. We do everything that we can on the wellness side, which, in the long run, is how we can manage our health-care costs. Short term, we're adding options for our employees, such as offering a high deductible plan, in addition to the more typical plans that we have; and we're dealing with cost sharing, meaning, "How much of the premium does Furman pay?"
You helped devise compensation adjustment strategies to achieve and maintain competitive staff salaries. Tell us more about that.
We've always had good benchmarking data for our faculty salaries, with the goal of keeping them competitive within their peer groups. We have not had the same good data on the staff salary side. Working with HR a couple of years ago, we commissioned a staff salary study to look at our higher education positions and benchmark them against our peers. We benchmarked against the local market for positions such as grounds-keepers, custodians, and administrative assistants.
Based on the results from that study, we readjusted our position salary grades, which hadn't been evaluated in a long time. We found that a lot of our staff positions were below the minimum of their new grades, so we developed a three-year strategy to get everyone up to the minimum.
Once we achieve that, we'll work on moving folks within their grades, based on their years of service and performance.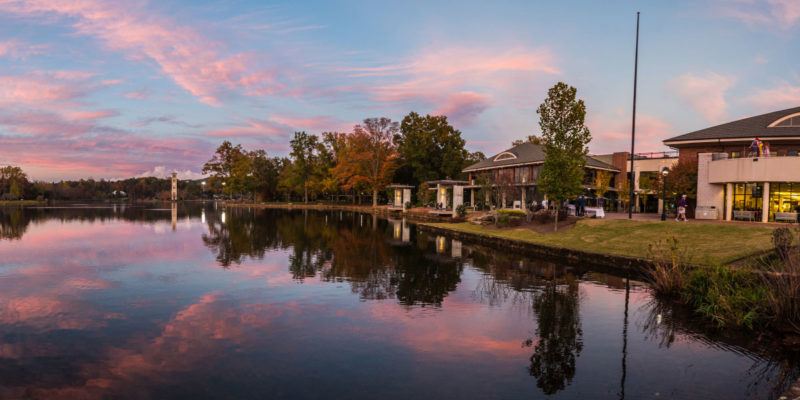 I'm sure your staff members were delighted with this, but doesn't that contradict your goal of keeping tuition increases flat?
It does go against that goal. However, we have to live within the overall big picture budget. We earmark an annual amount that fits within whatever tuition increase we establish.
You served as an adjunct faculty member in accounting for a couple of years. How did that help in gaining a better understanding of the academic side of the institution?
I have a greater appreciation for the work that faculty do, day in and day out, and the time and care that they put into developing classes and teaching students. I can relate to them a little better.
You chaired a committee that studied your internally operated bookstore and eventually transitioned it to an external operator. What was your rationale?
We did this in 2010, when online providers, such as Amazon, were taking off. Prior to that, we operated the bookstore ourselves, but, because of the competition, the revenue was declining.
We didn't see it getting any better, so we put together a committee of faculty, staff, and students to evaluate our options. The process included visiting schools that used external bookstore operators, to understand their processes. We decided to do an RFP and allowed our internally operated bookstore staff to respond.
We eventually made the decision to outsource. One of the big reasons: We could not provide a robust rental program without asking faculty members to commit to the same textbook for two or three years, and they wanted more flexibility. We wanted to partner with a company that could keep up with industry trends, whether that involved digital books, rental programs, or general changes in the industry.
This clearly had an impact on our employees. Any time you start studying outsourcing, employees get very nervous and it's hard to keep them calm and motivated.
What did you do to limit employee impact and do you have any regrets?
We wrote into the contract that the external operator would hire our employees. We did all we could for them.
I don't have any regrets. Our partner can keep up with that industry better than we can. Their rental program has been very popular with students, and we have been pleased with the relationship. Financially, we have been able to stabilize—and even increase—our net revenue.
What advice do you have for those who are early in their careers at an institution? What steps should they take to succeed? 
They should find a mentor to help them understand the culture of their institution, particularly if they are coming from a corporate environment. They have to get acclimated to the way decisions are made in higher education.
They need to find someone to help them understand faculty governance and what that means at their institution.
Lastly, attending NACUBO meetings and the regional conferences to network, expanding their contacts, and learning as much as they can is essential for their career development.
How can people go about finding a mentor?  
My mentor is my supervisor, Mary Lou Merkt, NACUBO's new board chair. For me, it kind of just happened, but you can always just ask someone who you think would be helpful.
MARGO VANOVER PORTER, Locust Grove, Va., covers higher education business issues for Business Officer.
Credit: Jeremy Fleming, Furman University