Robert I. Cochrane is the controller of the College of Southern Maryland (CSM), a regional community college that serves 25,000 students in Calvert, Charles, and St. Mary's counties.
Now, as the president of the Maryland Association of Community College Business Officers (MACCBO), Cochrane believes affinity groups are a great resource for information sharing, particularly for community colleges, which are known for their tight staffing levels. "By becoming a member of the association, you are never alone." The association has representatives from each of Maryland's 16 community colleges, which are also able to join efforts in researching and developing statewide initiatives that will affect the colleges and their operations.
Your resume indicates that you've completed five financial and A-133 annual audits with no findings. What's your secret?
It comes down to people doing good work throughout the year, and then doing a final review to ensure that everything is in its proper place. I've been in higher education for almost 25 years, and I always spend a lot of time at year-end verifying every account.
Since you arrived at the College of Southern Maryland, you've changed the tuition process to reduce bad debt charges. What steps did you take?
First, we clarified our communication with students to ensure that their obligations were known upfront. I also instituted referrals of delinquent accounts to the State of Maryland central collections unit.
Historically, the College of Southern Maryland did not participate in collection efforts. By having that option out there, students understood that they would face significant consequences if they did not follow through on their payments.
I believe tuition collection comes down to establishing front-end controls. You need to make sure that students follow the registration processes and understand their responsibilities. You also need to communicate any exceptions and follow up on third-party payments. Finally, if students don't make their payments, they need to know that they will face significant consequences.
Why not just cut off students who don't pay tuition by a certain date? Isn't that a normal procedure?
We want to be flexible and work with our students. Community colleges are transformational. We serve our community. We get state and local support, as well as student support, and, in the end, we want to have a positive impact. Sure, we could have zero accounts receivable, but we can't serve our community if the people who need education and training are barred because they (1) don't understand the financial aid process, (2) don't understand that they can make installment payments, or (3) don't understand that we will work with them if they run into a problem.
Community colleges typically have the highest level of accounts receivable because they serve many first-time college enrollees and students who are continuing their education after life-changing events.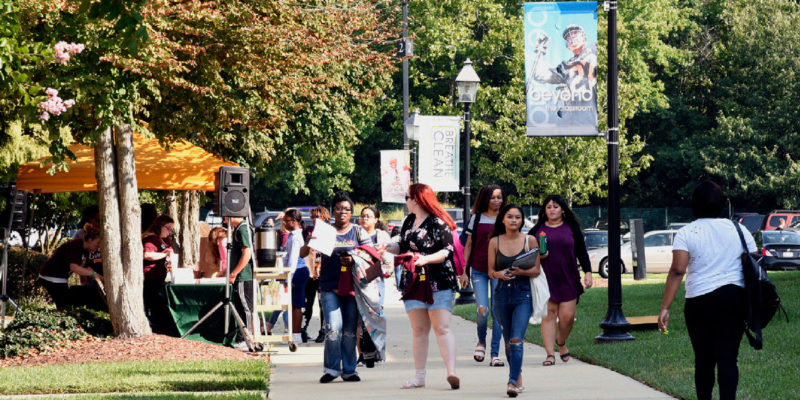 What kinds of savings have you achieved from the change in tuition payments?
We've gained about $100,000 a year in savings from this change. On a $70 million budget, that's not a lot, but I think of it as funding an additional faculty member or student counselor.
Tell us about the restructuring of the cash management program that you implemen-ted. When did that occur? 
In 2012, about a year after I arrived. We had been investing in a local government investment pool. I knew about a program called CDARS, run by Promontory Interfinancial Network, where local banks can pool their resources to offer the highest interest rate available. Through that program, we have been able to increase our investment earnings from 25 to 50 percent over the past several years.
We have roughly $20 million to invest in short-term cash resources at any point in time. Every week or so I send out an e-mail to the local government investment pool and local community banks—our board has adopted a policy that gives preference to keeping our cash within the community. The funds go to the institution offering the highest rate.
The interest rates offered by banks vary significantly depending on their needs. Recently, the rates for $1.5 million for 30 days varied from 1.05 percent to 0.7 percent. This program allows us to move funds where the best investment exists.
Tell us something about yourself that your peers may not know.
I have an identical twin brother who is also a CPA, and our wives look remarkably similar.
Have you had any turning points in your life that changed your outlook or sense of purpose?
After our kids graduated from college, my wife and I decided we wanted a change of scenery and moved from the Chicago area to Washington, D.C. It has been a great move for us, as the District has a lot to offer. Plus, I love going to work every day at CSM and making a difference. Even though I'm not in the classroom, I view myself as an educator.
Since you live in Washington, D.C., what is your commute time to your office in La Plata, Md.?
It's a 45-minute, gorgeous commute. As I drive through the city, I pass the Lincoln Memorial, White House, and Washington Monument; once I reach Southern Maryland, I get to see horse and cattle farms. Since it's a reverse commute, it's an easy drive. I use the time to listen to audiobooks.
MARGO VANOVER PORTER, Locust Grove, Va., covers higher education business issues for Business Officer.
Credit: College of Southern Maryland