When Mark B. Lillehaugen travels to professional conferences he packs the usual changes of clothes, toiletries, and business requirements. He also throws a pair of rollerblades in his suitcase. "Some people go for a jog in a new city," explains the controller of Concordia College in Moorhead, Minn. "I like to explore on my blades."
Although Lillehaugen admits to spending most of his workday "riding a chair," he is most naturally an outdoor person. A 26-year veteran of the college, he supervises an eight-person staff involved in budgeting, tuition collection, accounts payable, student loan administration, and credit card processing.
Which of those functions is most likely to keep you up at night?
None of those. We have a good staff; they work hard; and they know what they're doing. What keeps me up at night is the big picture of enrollment. Like many colleges and universities, Concordia has faced a slight downturn in enrollment. Consequently, I need to address the issues of maintaining a balanced budget with the resources that we have. How do we balance the budget, pay our staff, and still provide the excellent education that our students need?
What kinds of enrollment solutions have you come up with—and where does tuition fit in?
Solutions require cooperation across the entire campus, including faculty and staff. Our enrollment division is working hard to attract diverse and talented students for whom a small liberal arts college would be a good fit. Nationally, there are fewer traditional students who are 18 to 22 years old, which is our target population. Plus, we have two other large, public institutions in this city, so we need to reach out creatively [and be competitive].  
Private institutions can never compete solely on dollars with public institutions, but we're certainly competitive with other private colleges. In fact, we're less expensive than most of the other private institutions in Minnesota. When one considers our four-year graduation rate, the comparison with public institutions becomes very favorable.
For those not familiar with Moorhead, tell us more about the city. 
Moorhead is situated on the western border of Minnesota, near North Dakota. The Fargo-Moorhead community is a true "college town," as it is home to Concordia, Minnesota State University Moorhead, and North Dakota State University. The Red River separates the two states. I can look across the river and see Fargo.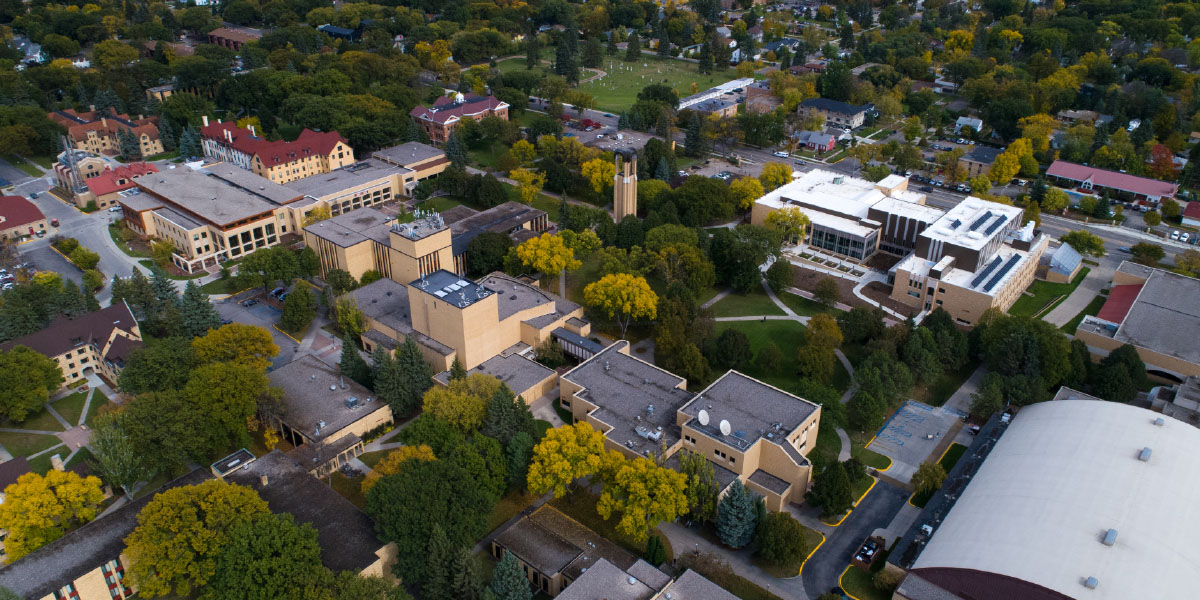 Unfortunately, the river runs north, so occasionally, when the ice melts in the spring, it has caused flooding. In 2009, Concordia had to close the campus for a time because services in town were unavailable due to rising waters. 
This is where emergency planning comes in. We not only had to protect the institution's facilities, but we also had to figure out how to keep our business office responsibilities covered when we were not supposed to be on campus. 
Though flooding has certainly resulted in a negative impact, we've also experienced several positive outcomes. 
For example, during these emergencies, our students have volunteered in our community by helping people lay sandbags in their backyards. Their efforts made a huge impact in saving people's property and keeping the overall community safe.
On a personal level, since I live along the river, I have dealt with flooding at my home. We've had to build sandbag dikes in our backyard to create a buffer of protection, and, yes, those college students were among the volunteers who helped us. 
What's the biggest risk that you have taken in your career?
I was young when I first applied for a job at Waldorf College, located in Forest City, Iowa. Why did I think that I could be the director of business affairs at 26 years old? Thankfully, I was given the opportunity and have enjoyed the profession for more than 30 years. 
Have you ever found your career choice frustrating?
The scope of issues a business officer faces is huge. Occasionally, I wonder how to dream big and have vision and still deal with the reality of my day-to-day responsibilities. I find myself answering multiple questions, simultaneously, such as "How can we handle a $45 million bond issue?" and "Do we really have to pay for coffee in the break room?" 
What were the details of the bond issue?
The last time we issued bonds was March 1, 2016, mainly to fund a major renovation of our science center. We were also refinancing all our prior debts with variable rate instruments that reset every six months. The bond issue was approximately $45 million, and $20 million of that was for the science building, which opened for classes in August 2017. Now that the facility is open, it is a great addition to our campus.
How would you describe your particular management style? 
I try to lead by example. I work hard and expect others to work hard as well. I try to stay positive and look for the best in situations. It's important to remember the reason this office exists—to serve our students. 
At Concordia, our mission is to influence the affairs of the world by sending into society thoughtful and informed men and women dedicated to Christian life. This isn't about us. It's about our students, who are here to learn. 
As far as managing staff, I hire good people, allow them to do their best work, and stay out of their way. 
I'm committed to having each member of the business office think through all aspects of a given situation. If team members come to me with questions, I help them look at the big picture and to find their own solutions. We're a small staff, so we have to cover duties for each other while maintaining the appropriate segregation of duties, which is an important internal control.
I've had the privilege to work with a few excellent leaders who exemplify the qualities of humility and grace without seeking personal accolades. They serve the college with distinction, and I hope that I have been able to follow in their footsteps.
If you had a personal motto, what would it be?
I see my life purpose to serve others as an expression of my Christian faith. I believe it's my responsibility to use my skills and talents to help make the world a better place.
Is that why you have volunteered with Habitat for Humanity?
Yes, my wife, Carolyn, and I, along with our four sons who were young at the time, helped with a few volunteer builds. We signed up through our church and enjoyed it a great deal. We thought it important that our boys participate in helping others. In an unusual twist of fate, the father of one of those families is now employed as a nighttime security guard at Concordia.
You also volunteered with the Roosevelt Rendezvous Program. Please explain that work. 
Carolyn and I have long-supported our national park system and other environmental conservation projects. Looking for additional ways to become more involved, we came across this program at the Roosevelt Lodge in Yellowstone National Park. Held in September, the activities are like a camp for adults. Participants go on guided hikes, search for wildlife, enjoy educational strolls, take photographs, and spend free time on their own. As volunteers, we answered questions, accompanied guests on hikes, and assisted with meal services. 
We spent about two weeks at Yellowstone and helped other people learn about its wonderful beauty and why it's important to preserve our national treasures. 
As I plan for the next stage of life after I retire, I can definitely see continued involvement in the national parks. I might try to fold that in as a second career.   
If you could travel anywhere in the world, where would you start?
I love to travel. Carolyn and I have taken our boys all over the United States, camping, hiking, biking and exploring significant historic sites. We've visited 49 states and more than 130 national park sites. 
We would love to explore Europe. I am particularly interested in visiting Norway and Germany, the countries of my family's heritage. I was an English major and have read a lot of Shakespeare and Dickens, so I would also love to visit England and tour the settings for their stories.
How do you unwind from the pressures of the job?
Exercise is my mode of relaxation. After work, depending on the season, you can find me on my bike or a pair of cross-country skis. I also love to read and usually am in the middle of two or three books and a couple of magazines.   
MARGO VANOVER PORTER, Locust Grove, Va., covers higher education business issues for Business Officer.
Credit: Concordia College