A freak snowstorm changed Valarie R. Van Vlack's life.
Born and raised in Syracuse, N.Y., Van Vlack was the director of cash management at Syracuse University, until she attended the Treasury Institute for Higher Education Symposium in San Antonio in February 2007.
"It's kind of a funny story," she says. "I was not able to fly home because Syracuse received over a foot and a half of snow in one day. While waiting for my flight, I read about a job, which was a perfect fit, and I thought, 'My husband and I could live in Texas, or I could go back to the cold and snow.' I applied for the job, fell in love with the university and the leadership, and never looked back."
Happily ensconced as the treasurer of Texas State University, San Marcos, for the last decade, Van Vlack is responsible for a staff of 24, who perform a variety of functions in treasury and bursar operations, which include loan collections, student accounting, cashiering, and other business office tasks.
Which of your many responsibilities is most likely to keep you up at night?
Payment processing and cash management across the entire university, and trying to keep track of who is doing what and where. A university is like a city, with many activities happening at the same time. One major concern for many treasurers is securing credit card processing and adhering to the payment card industry data security standards. We need to make sure that anybody who is taking credit cards or managing the credit card process is properly trained and exercising due diligence with the applicable credit card industry standards.
The standards are challenging, but necessary to safeguard customer information. While we need to be progressive in offering new services, we are mindful that we are responsible for protecting the data of our students and the university population.
During your tenure at Texas State University, have you recommended any process improvement initiatives?
My team's fundamental goal is to identify, analyze, and improve upon the different policies and procedures for our unit. We are continuously reviewing ways to better serve our customers and work with departments both internally and externally.
I have recently been involved in a joint effort with the university advancement division to review endowment compliance. Together, we have standardized and streamlined the process for how we distribute endowment funds to deans and department leadership, giving them timely access to the account information that they need in order to distribute the allocated funds.
Working with the deans, we developed reports to identify early in the year the availability of endowment funds. These reports now allow the deans to monitor the progress in order to distribute the funds in a timely and efficient manner.
What kind of developments have you seen in the area of endowments for Texas State?
We have three endowments that support the mission of the university: the University General Endowment, the Development Foundation, and the McCoy College of Business Foundation. I manage the university endowment.
Texas State is an emerging research university—classified by the state of Texas—so we're also eligible for Texas Research Incentive Program (TRIP) funding. If donors give money for research, TRIP will match certain levels of the donation. We have been able to create several quasi endowments from that money to help fund research in perpetuity.
Are there any other changes—good or bad?
According to the 2016 NACUBO-Commonfund Study of Endowments, the average 10-year net return for the 805 institutions that participated in the study was 5 percent as of FY16. The expectation of many institutions is to receive between a 7.2 percent and 8 percent return, or at least the consumer price index plus 5 percent.
We need to investigate and evaluate the return assumption. It's a new world. I don't think that anybody really understands what the future will bring for investments. We've been in a low-interest environment for so long, and everything seems to be more correlated. We're learning as we go.
How has your position as treasurer adjusted to some of the changes occurring on college campuses?
In my role as treasurer, I'm also responsible for managing student business services. We are working much more closely with enrollment management, looking at student retention and analyzing policies and procedures around student needs. We're trying to answer important questions—including how to retain our seniors, what is the unmet need of our students, what are the complexities that they are encountering—and figuring out how we might be able to help. We are analyzing student data to attempt to proactively assist students before they need to self-identify.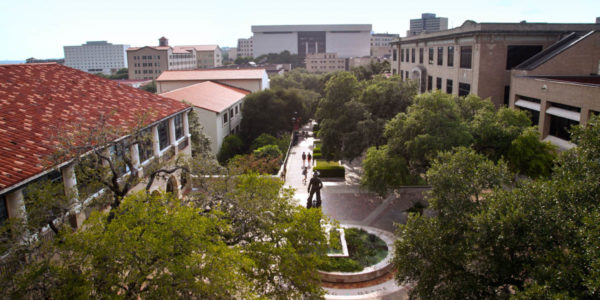 In combination with our retention management team, we do everything that we can to let students know about payment requirements and, if needed, services that can help with bill payment.
In addition, the student business services office works behind the scenes with many offices on campus to ensure that the student experience is stellar. Although total enrollment at Texas State is over 38,800 students, we want each student to feel that their individual needs are being addressed. Our retention management team has also started to reach out to the seniors who are registered, but haven't paid, saying, "You're in your senior year. Let us know if we can help." In many cases, we are able to offer services so that they can meet their financial obligations.
Can you explain how that is possible?
We have an emergency loan program as well as a payment plan, which may be appropriate for students whose funding has not yet arrived. We also work with financial aid to see if [students] qualify for additional funds, which can cover up to the cost of attendance. Students are not always proactive in telling us their stumbling blocks. They hesitate to reach out to us and say, "Hey, I have a problem."
You mentioned that you are married, right?
Yes, to my husband, Steve, for 27 years. We met prior to college, but we got to know each other during undergraduate school at SUNY Geneseo. He was a junior and I was a freshman. We've been together since.
How did Steve feel about leaving Syracuse?
Although Syracuse will always be our true home, he was ready to move. He loves live music, and Austin, according to its residents, is the live music capital of the world. Within 48 hours of moving to Texas, Steve and I attended our first concert at Gruene Hall, the oldest dance hall in Texas.
Tell us something about yourself that your co-workers probably don't know.
I competed in the NASTAR (NAtional STAndard Race) program, a recreational ski and snowboard racing group. When I was 15 years old, I placed ninth in the nation for my age category in snow skiing. I did giant slalom and slalom, both of which make up the technical events in Alpine ski racing. I also raced competitively with my dad in the Northeast as a father/daughter team.
MARGO VANOVER PORTER, Locust Grove, Va., covers higher education business issues for Business Officer.