"Take your seat at the table," says Nichol Luoma, vice president of university business services, sustainability operations officer, and chief procurement officer, Arizona State University (ASU), Tempe. "Don't wait to be invited."
Luoma learned this lesson early on in her career while working at Intel Corp. as a technical adviser and later as the strategic sourcing manager for capital assembly equipment. "In discussions with senior people, I would have ideas but wouldn't speak up," she says. "I thought I was too junior or I lacked information. I didn't feel confident enough to engage. After one meeting, my boss pulled me aside and asked, 'What do you think? Any ideas?'
"When I told him my ideas, he asked, 'Why didn't you say that in the meeting?' He pushed me to take risks and join the conversation."
Now the supervisor of 200 full-time equivalent employees and another 200 students, Luoma tries to encourage participation from those who may have great ideas but don't think they'll be heard.
How did you end up at ASU?
I got a call from a headhunter when I was nine months pregnant. Fortunately, the interview process took several months. When I was offered the job of director of procurement, I asked if I could wait four months to spend some time with our new baby.
Their answer was "Yes, absolutely," and the timing was perfect. I earned my bachelor's degree here, so I loved ASU from the get-go.
Over the past five years, what cost-reduction initiatives have you spearheaded?
My procurement team has implemented strategic sourcing initiatives that have generated cost savings, and not just by negotiating prices. We have looked at sourcing initiatives that go beyond cost savings and include risk reduction, service levels, and coordination of multiple departments on campus.
Some of our most innovative relationships focus on institutional goals and total cost of ownership. For example, in partnership with our university technology office, we are looking at standardization that reduces the total cost of ownership for computer hardware and software.
What is your strategy for managing supplier relationships?
We have implemented a strategy that manages the contract but also engages suppliers in strategic conversations around student access, technology, innovation, and other important topics. In quarterly business reviews with a supplier, we might invite the CFO and representatives from IT, the provost office, athletics, and marketing to engage cross-functionally to see how we can advance the institution.
What mistakes are institutions making with their supply chain management?
Not all institutions realize that it's truly a value-added function; historically, many have thought it was an administrative function. Supply chain management is an important investment that pays off in increased revenue, improved customer service, and more sustainability-minded operations.
You are moving toward centralizing the supply chain for the ASU Tempe campus. What is the reasoning behind this decision?
ASU, specifically the Tempe campus, has grown dramatically. Traffic can be tough, and we receive hundreds of on-site deliveries each day. Currently, we only receive about 20 percent of deliveries through our warehouse, while the rest are done desk-side. We have drivers from FedEx Corp., UPS Inc., Amazon.com Inc., and Uber Technologies Inc. delivering packages all over campus.
Vehicular traffic is a big deal because our campus is very condensed. By centralizing the supply effort, we are removing those excess vehicles from campus and having deliveries made to one point. Then, my team will make the desk-side delivery. We are looking at other campuses as well, but it is needed most in Tempe.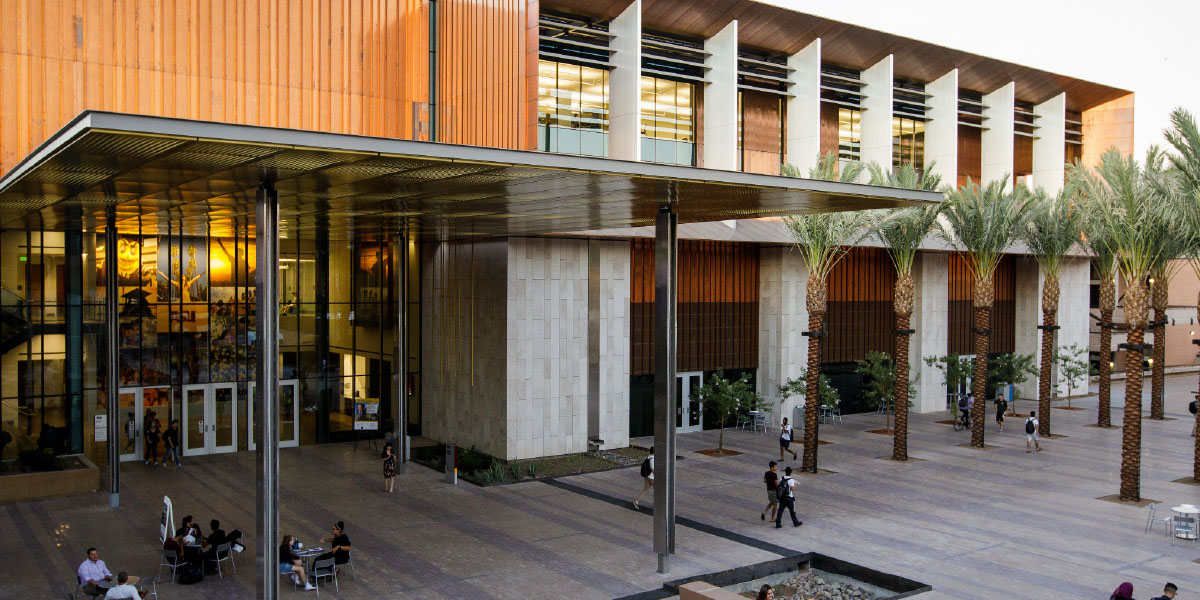 How does that make financial sense?
It's a better model for us. We were already delivering mail, copier paper, and some other supplies, so we will see economies of scale.
It saves money for the shipping companies as well because drivers don't need to park, get out of their trucks, and walk to the building, so we were able to negotiate a last-mile delivery rate to help fund our increased workload.
Can you tell us more about your efforts to improve sustainability?
Yes, it's one of our most important values and initiatives on campus. We're constantly raising the bar on sustainability. We're trying to be role models, as an institution and as responsible citizens. It's a challenging tension for me to own sustainability operations under the CFO because sustainability is often perceived as expensive, so I have to be innovative when looking at technology and costs. Fortunately, sustainability usually has a payback when looking at life-cycle cost.
For example, we have a partnership with Canon U.S.A. Inc. where—ironically—the goal is to print less, not more. Our goal is to increase the sustainability of the university and reduce our carbon and paper usage. The question is, how do we enable technologyin a way that reduces the total cost of ownership and our carbon footprint? We're looking at the total cost of ownership over a printer's life span, which includes the costs of a desk-side printer and toner, energy usage, and the information security impact of connecting a device to the school's network.
Of the many functions you supervise, which is the most likely to keep you up at night?
Despite managing critical background functions, I really don't stay up at night. I have a phenomenal team who cares about this university, provides excellent customer service, and makes sure to check the right boxes.
Tell us about a challenging situation that you regularly encounter at work.
The most challenging recurring situation I face at work has to do with competing internal priorities. For example, one unit might want to do something that conflicts with another unit, and I have to make that call.
How do you handle that?
My tried-and-true method is to bring the impacted units together to discuss candidly and directly the pros and cons of each option and talk through the best way forward. I lead the decision-making process by looking at data and using negotiation theory. I try to generate a win-win solution.
What challenges have you overcome in your life or career?
I was a first-generation college graduate. In high school, I was severely asthmatic and had to be home-schooled. When I turned 19, my asthma got better. I put myself through college and was the top student in my graduating class at ASU's college of business.
MARGO VANOVER PORTER, Locust Grove, Va., covers higher education business issues for Business Officer.