Our first official homecoming at Robert Morris University (RMU), Illinois, included all the right ingredients. Kicking off the October 2013 events was a pep rally, with special guest Bo Jackson, in the new athletic and convocation center—across from the completely renovated outdoor stadium. A series of volleyball and soccer games helped build excitement leading up to Saturday's football game.
For a commuter school with its main campus located on State Street in Chicago's downtown "Loop," an appropriate question would be, "How did all this come about?"
In fact, the homecoming events and sports complex were the result of several years of collaborative work in partnership between RMU and Township High School District 214, Arlington Heights, Illinois. Together, the institutions' leaders accomplished the transformation of a former high school campus into a state-of-the-art collegiate athletics complex. Along with the enthusiasm the sports center generates comes the fulfillment of the university's goal to support the surrounding community.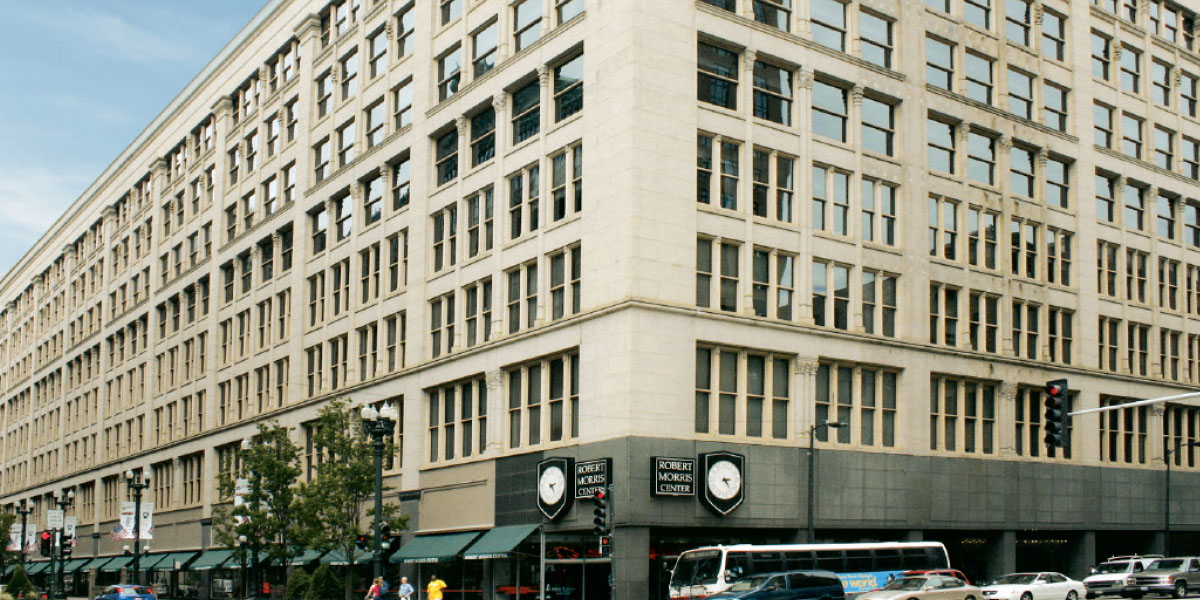 Phased Facilities
Over the past 10 years, RMU  Illinois' business affairs office researched a number of possible locations and partnerships. Preliminary work with District 214 proved promising in terms of sharing facilities and financial resources. It was a logical choice to expand on and improve the relationship with regard to athletics.
Ambitious goals for the anticipated sports complex called for a strategic approach.
Phase one. The initial project included the renovation of the football stadium (also used for soccer and lacrosse) and the building of a new training center for the football team. Just outside the practice facility would be two full-size, lighted practice fields. For the stadium field, we planned for a high-tech playing surface plus upgraded bleachers, locker rooms, concessions, spectator areas, press box, and sound and lighting systems.
Phase two. Following RMU football's first year of outdoor play in 2011, we expanded the partnership to include total renovations to the empty, un-used field house. We did a total makeover of the arena, with recessed hardwood floors, a running track, four practice courts, permanent seating, scoreboards, locker rooms, and much more.

 
Mutual Gains
The broadening partnership allows area residents to take advantage of our community education programs. Donor-sponsored RMU scholarships, as well as principal-selected scholarships from each of the District 214 high schools, assist residents in accessing the programs. 
Similarly, the new RMU Athletic and Convocation Center at the Forest View campus enables us to offer sporting events such as basketball, volleyball, and numerous other activities that enhance our brand. 
The partnership and its results have received high marks. "I am pleased with the administration's ability to find creative ways to upgrade facilities at minimal cost to the taxpayers," says James Perkins, president of the district school board. "This is another great example of a collaboration resulting in a mutually beneficial project." Robert Morris retains full naming rights and use of the athletics facility, of which the district will have usage rights for community programs when facilities are unoccupied. 
One of Many
This project builds on a history of facilities sharing by RMU and neighboring communities. Five of the university's hockey teams use three ice rinks owned by the Village of Bensenville, near O'Hare International Airport, with the university holding naming rights and maintaining permanent private locker rooms. We also share four practice gymnasiums with a private charter school in the city of Chicago. 
These collaborations are critical to our ability to provide top service to first-generation students, with high-quality, career-focused education—and one of the largest athletic programs in the state of Illinois. We can offer more sporting events, which raise our visibility and that of the community. And the educational piece of the project helps fulfill our mission of bringing career-focused educational opportunities to communities throughout Illinois. 
SUBMITTED BY Ronald M. Arnold, vice president of business affairs, Robert Morris University, Illinois