As cell phones become ubiquitous and other mobile devices proliferate at Hampden-Sydney College, uninterrupted connectivity has become critically important. When one of these devices fails to function at our Hampden-Sydney, Virginia, campus, panic can set in. 
This scenario need no longer occur in the Bortz Library. Early last spring a technology trade magazine advertisement for a simple cell phone charging station inspired us to create a flexible and complimentary device-charging service in the library's media center. The results have been pleasantly surprising.
With tight budgets everywhere, all service-related departments on campus are asked to do more with less. Adding mobile device charging to our set of technology support services, however, was an attractive option. It filled an obvious need without requiring more staff or expensive equipment.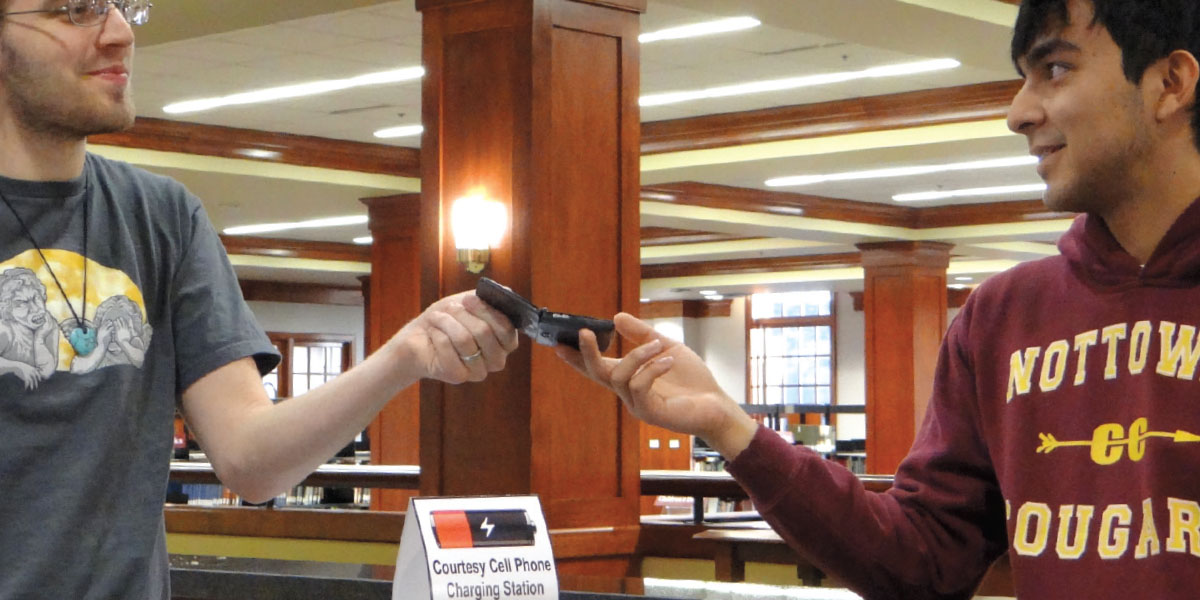 A Charge We Could Afford
Following some basic Web research, we settled on the ChargeAll Universal Cell Phone Charger. We call it the "squid," because of its 10 different connectors that cover a wide variety of cell phone types, ranging from Apple and Blackberry to Ericsson, LG, and others. We included the original Apple connector, which worked with iPods, iPhones, and iPads, and immediately added the Lightning connection when it was released. Since the Micro USB appears to be the most commonly used connection, we've added two cables to
our station. 
The ChargeAll was $60, the Micro USB chargers were about $20 each, and the new Lightning charger was $40. Rather than purchasing ChargeAll's stand-alone charging station, we opted for the 10-connection, single cable; and we leave the charger's ends on a tabletop for easy access. While not elegant, our approach saves space that is at a premium at our help desk.
Integrity Coupled With Implementation
As we discussed the logistics of our new service, we considered a coat-check style security system, but ultimately we decided to rely on the honesty and integrity of our students, who all subscribe to the college honor code. 
Students can simply walk up to the help desk in the Fuqua Technology Commons and ask the student assistant to charge the phone. The staffer plugs in the phone, makes sure it is charging, and then lets the user know the phone is properly connected. We keep track of charging station usage with an effective, simple tick-mark method. Since library users rarely wander behind a staffed desk, we can report that not a single cell phone has been lost or stolen.
We promote the new service through the campus e-mail system, and place tent signs on tables near the library's public access computer stations and at the main circulation desk. However, word-of-mouth appears to have been the most effective means of promotion. 
Measured Success
About a month after we set up the charging station, we'd tallied more than 90 uses. In the first full semester of use, the charging station has had nearly 400 hits. Students were impressed by how quickly we had one of Apple's new Lightning cables for the iPhone 5, and continue to express appreciation.  
We also decided to offer Mac and PC laptop power cables for circulation within the library. Students now can bring their laptops and not worry about running out of power or carrying around a bulky cable. 
We considered a second cell phone charging station on the library's main floor, but the existing location appears to be drawing more students downstairs into the technology commons area, where they discover other beneficial equipment and services. Based on the squid's success, we've added other accommodations, such as a hotspot specifically for printing directly from students' mobile devices. 
Glenn Culley, vice president for business affairs and finance, has consistently supported our efforts and endorsed using restricted funding (an endowed account that draws interest we can use to upgrade and add new technology in the Commons) to make this possible. He notes, "The return on investment of this service offering, coupled with the high level of student satisfaction, easily made it a venture worth supporting." 
SUBMITTED BY Brian Burns, media librarian, Hampden-Sydney College, Hampden-Sydney, Virginia