While institutions along the coast might nervously monitor the current status of hurricanes, The University of Alabama (UA) also keeps close tabs on another one of nature's most destructive forces—tornadoes. Located in Tuscaloosa, in the middle of the state, the university has firsthand experience with this dangerous weather system and the damage that it can cause.
On April 27, 2011, a violent EF4 tornado with 170 mph winds just missed UA, a public institution established in 1831. For several days before the storm, the National Weather Service (NWS) provided regular forecasts regarding the severe weather threat, and the university prepared its campus.
As the supercell strengthened that day, NWS Birmingham radioed us with a warning confirming the worst: "The tornado is on the ground. It's heading to the campus. It will be there in 10 minutes." Our university, which currently has about 6,500 employees and 37,665 students, 10,000 of whom live on campus, prepared for a direct hit.
Fortunately, the twister took a slight detour, missing the campus by 1,200 feet (0.22 miles). Unfortunately, in six minutes, the storm destroyed six miles—or 12 percent—of the city of Tuscaloosa and killed more than 50 people. One was a UA employee. Six were students. All lived off campus.
In advance of the storm, we briefed our senior leadership, warned employees and students, established incident command to manage potential concerns, and activated our emergency operations center. Although our campus sustained minor damage to trees and utilities, catastrophic destruction occurred in adjacent neighborhoods. The tornado decimated homes, businesses, and utilities.
Assessing Area Damage
One of the first buildings to fall was the Tuscaloosa County Emergency Management Agency, which collapsed on impact. The employees inside managed to crawl out of the rubble, leaving behind all of their much-needed equipment and resources. Even their vehicles in the parking lot were destroyed. Our personnel picked up these emergency employees and brought them to our center, where they co-located with us for 2 1/2 days, resuming operations from our emergency operations center.
For several days, most of the city, including the university, remained without power. Because of the severe damage to water towers and tanks, water pressure dropped.
The storm arrived at the most challenging time in our spring semester—final exam week, followed by graduation ceremonies—when parents and friends of our students would soon begin flying in from all parts of the country. To stop the influx of people to our struggling city, our emergency preparedness and response policy group—which includes senior executive leaders—cancelled graduation, and allowed students to accept current grades or work with instructors at a later date for final grades.
By ending the semester and sending students home, we reduced the demand on the city's resources by a third.
The next 16 days—when our emergency operations center remained open around the clock, supporting the city, county, and state—passed in a blur of activity. Our faculty members, who spoke multiple languages, acted as translators at the shelters set up around the county. Our police department helped in the hunt for missing persons and policed certain parts of the city for a month so that city police officers could concentrate on other areas.
We provided shelter for Red Cross volunteers, as well as for personnel from power companies, law enforcement, and the National Guard. Urban search and rescue teams established a communication site on campus. We provided buses to move search and rescue personnel from their base camp to impacted areas in the city. Our Coleman Coliseum stayed open for a week so that the state's department of human resources could help people register for disaster supplemental food assistance and residents could replace key documents such as driver's licenses and birth certificates. We also established a joint information center on campus.
We placed in temporary shelters university personnel and students whose houses were destroyed, and eventually moved them to residence halls. Counselors assisted those who were traumatized by the event and its aftermath. Our medical personnel helped in hospitals that were overwhelmed with injured patients. We loaned forklifts, trucks, and other vehicles to the fire departments and others.
A Tragic Test
This catastrophic event and its dramatic effect on our institution tested our emergency operations plan and procedures, and deepened our appreciation for the value of a quality emergency preparedness program. While the safety of students and employees has always been a high priority, our university didn't create a specific department dedicated to emergency preparedness until 3 1/2 years before the tornado tore Tuscaloosa apart. Until 2007, the university's police department handled emergency preparedness.
Since its creation, our office has evolved in scope and dimension. Even our definition of an emergency management program has changed. When we started, we thought our office and the police department would remain the major players in emergency management. As the program matured, we realized that emergency preparedness has to be a collaborative effort. People inside the university and the outside stakeholders in the city and county cooperate and come together, because they understand the value of the program and appreciate the critical roles they play in safeguarding the campus and community.
Our office of emergency preparedness is fortunate to have the full support of senior leadership. When the office was created, the vice president of financial affairs explained that she expected all units in her division to be operational in an emergency, because the rest of the university could not function without the business office. Her mandate ensured that specific plans and procedures would be in place to achieve continuity of business operations.
With the business office, we periodically conduct continuity of operations exercises—including those related to winter weather, tornadoes, and fire evacuations—to make sure that key personnel understand their roles. If the building that houses the business office is damaged, we've identified appropriate spaces where staff can relocate, with all of the resources required to operate in an emergency, including computers, phones, and generators.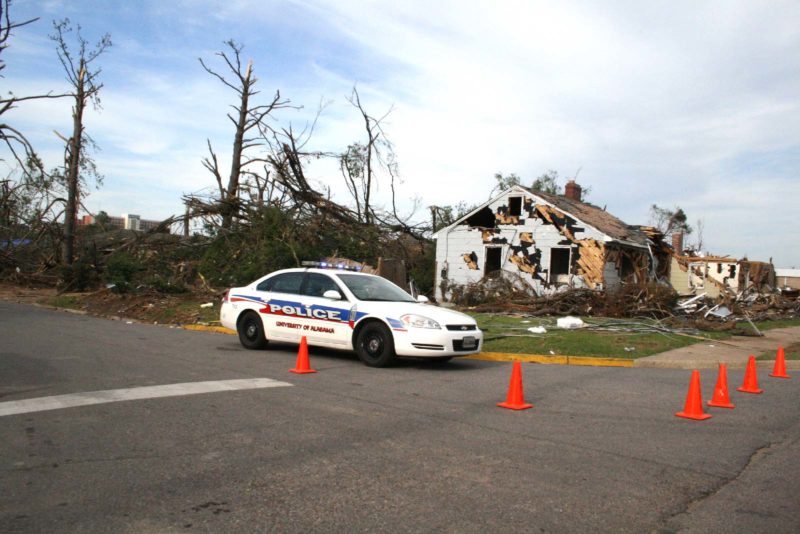 Next Step: Accreditation
In April 2015, to ensure that our program was totally on target, we applied for accreditation with the Emergency Management Assessment Program (EMAP), a standards-based voluntary assessment and peer review process that was originally designed for government emergency management agencies and is now available to higher education institutions.
Piece by piece, we started to rebuild and reconstruct our program based on the EMAP's 64 standards considered by other institutions as the quality standards for emergency management. After we completed our own self-assessment and believed that we had met all 64 standards, we applied for an on-site assessment. Trained volunteer assessors from other institutions came to our campus for a week and conducted an in-depth analysis.
In October 2015, the EMAP commission granted UA full accreditation, which remains in effect for five years. Accreditation requires an annual maintenance process, including a yearly report to EMAP that indicates ongoing compliance with standards. To receive accreditation, we spent approximately $20,000, including the application cost, which varies according to institution size, and the travel costs for assessors. Not included is the cost of time and labor in reaching compliance.
What we learned through this process is that UA, like many other institutions, focused on emergency response and did not pay enough attention to the other essential components of emergency preparedness. The EMAP standards highlighted the importance of planning for all essential components of emergency preparedness. UA went from implementing one large plan, which concentrated on response, to building a program that addresses all five areas of emergency preparedness—prevention, protection, mitigation, response, and recovery.
Prevention. The UA police department tracks potential technological and man-made threats, including terrorism and cyber attacks. Our behavioral intervention team and threat assessment team, working with the office of behavior threat assessment, identify and assess people who may be a risk to themselves or others, or who exhibit violent tendencies that could pose a problem. (Read also "OMG! Is That Real?" on page 35.) Our university also partners with local, county, state, and federal agencies regarding preventative measures.
Protection. In emergency preparedness, prevention and protection measures are closely aligned. Our security personnel monitor parking lots and other high-traffic areas. Open doors in certain residence halls, typically propped open by students, trigger alarms requiring security officers to respond and secure the indicated doors. We restrict access to key areas, such as resident halls and laboratories. A comprehensive system of cameras covers our campus, triggering additional resources in case of an incident. The office of environmental health and safety safeguards chemical, lab, and research activities to mitigate and prevent hazardous material accidents.
Mitigation. UA is included within the Tuscaloosa County Hazard Mitigation Plan, which outlines specific activities that can help reduce the impact of any threats to the campus. We work continuously with city and county officials regarding mitigation projects for the area. UA's construction administration addresses mitigation activities through a plan addressing utilities and infrastructure management and growth.
For example, UA demonstrates its commitment to hazard mitigation by providing FEMA-rated storm shelters. When we build a new facility or renovate existing ones, we consider where people would shelter in those buildings, then try to harden those shelter areas to make them secure in the case of a tornado. All new classroom buildings include designated tornado shelters as well. We purposely tie electrical substations together so that if one fails, the others can redistribute the load. We also maintain a backup data center with redundant network paths.
Response. The UA police department, which has been designated as the incident commander for campus emergencies, is supported by the Tuscaloosa Fire and Rescue Service. With a station located adjacent to campus, the TFRS responds to all calls on campus. We work with the local hospitals and the TFRS on medical responses and practice, and on ways to handle different types of emergencies. Our population protection plan, which varies according to the emergency, articulates building, area, and campus evacuations, as well as sheltering actions.
We post ongoing public education information on the university website (https://ready.ua.edu), and the emergency preparedness office works with our strategic communication division to distribute safety releases and information about shelters to students and staff.
The UA alert system is a notification system that is tested monthly. In an emergency, UA alerts disseminate emergency communication quickly to all designated individuals. The alerts give us the ability to text, e-mail, or make phone calls using cellular and landlines. Using an indoor public announcement system, we can broadcast one way to all residence halls, academic classrooms, and other buildings. An outdoor public announcement system allows us to communicate with voice messages.
We also have access to the Integrated Public Alert Warning System, operated by the Federal Emergency Management Agency (FEMA). Specifically, we may use the wireless emergency alerts feature to send an alert to every cell phone on and around campus, even if the phone is not signed up or registered.
Recovery. Our recovery plan addresses continuing operations, facility use, and the essential programs that must stay in place for the university to function. We have contracts in place with vendors to provide support for recovery operations and restoration of services in case services and equipment are destroyed. This backup plan will help the university resume normal operations as quickly as possible.
For example, we ask each of our departments and units within the division of financial affairs to complete a standardized template "Unit Continuity of Operations" that details department objectives, communication during an emergency, essential functions, access to systems, key contacts internally and externally, and leadership succession.
Our plan for recovery focuses on three different phases: short-, intermediate, and long-term recovery. The planning concentrates on assistance needed by our own campus, but higher education institutions should also consider their ability to assist their surrounding jurisdictions after an emergency.
We're Never Done
We evaluate our emergency preparedness plans annually to ensure that they stay current by bringing together stakeholders who are participants in that plan. If we have an incident on campus, we conduct an after-action review to determine if we need to make any improvements. We also conduct quarterly exercises, either tabletop or full scale, that usually result in enhancements to policies or procedures.
We led one exercise with the business office in which we told employees:  "Suppose your building just burned. Everything—hard copy files and computers—in your offices has been destroyed. Tell us how you will resume operations."
We worked through that exercise, developing a comprehensive emergency plan for those employees. They're ready.
Donald Keith is the director of emergency preparedness for The University of Alabama, Tuscaloosa. Sarah Johnston, UA's emergency preparedness manager, is a volunteer assessor for EMAP.