The following NACUBO staff members and consultants contributed photos, comments, and articles for this report: Liz Clark, Monica Dillingham, Abby Eastman, Steffon Gray, Karla Hignite, Kirsten Hilgeford, Emily Hirsch, Sally Grans Korsh, Preeti Vasishtha, Lindsay Wayt, and Lisa Whittington.
Photos by Event Photography of North America Corp. (EPNAC)
Native Texan and former NACUBO board chair are among the long list of credentials that made Cynthia Teniente-Matson the perfect guest to welcome NACUBO 2019 Annual Meeting attendees in Austin. Teniente-Matson now serves as president of one of the fastest growing universities in the state—Texas A&M–San Antonio—where she has led its successful transformation into a designated Hispanic Serving Institution and a comprehensive four-year university that welcomed its first freshman class in 2016.
Everyone knows that "big" is central to the cultural identity of Texas, a state with enormous pride and a rich history stemming from its founding by Native Americans, Spaniards, and Mexicans, noted Teniente-Matson. By square miles, it is the largest contiguous state, but it also has an outsized presence by other national measures. Among these, Teniente-Matson highlighted:
The Texas high school graduation rate is among the top five highest in the nation, with an 89.7 percent completion rate.
According to data from the College Board, Texas has the highest percentage of students (94 percent) remaining in the state for higher education.
The state is home to 50 public community college districts and boasts 38 separate and distinct public universities, of which 34 belong to one of six state university systems.
Collectively, the state enrolls approximately 1.5 million students across public, private, and community college systems.
Texans are thinking strategically not only about higher education but also about economic development and resources, said Teniente-Matson. In 2018, Texas was the No. 1 jobs creator in the nation, the largest energy-producing state in the nation, and the No. 1 destination for companies relocating from other states, noted Teniente-Matson. "According to U.S. Census Bureau data, my hometown of San Antonio is the No. 1 in-migration city in the United States, with on average 150 people a day moving into the city."
Teniente-Matson also spoke of her own professional journey, crisscrossing the United States and eventually leading her back to Texas to serve a new campus a mere five miles from her childhood home. Stressing that her background and experiences as a chief business officer continue to shape how she thinks, acts, and leads as president, she encouraged attendees to aim high. "While it may be unconventional, I assure you that, if you're willing to be courageous and think big, you can get anywhere from the CBO seat."
Part of thinking big is engaging proactively in your own professional development and advancement, urged Teniente-Matson. "I don't say this to be clichéd. Chief business officers are strategic partners to their president and cabinet and are helping to shape the future of how campuses exist in this fast-paced environment," said Teniente-Matson. "No matter what your business role is at your university, your work is part of the engine that is changing lives."
Transformational Value
Susan Whealler Johnston, NACUBO president and CEO, echoed that sentiment in her words of welcome to attendees, which also marked her one-year anniversary at the helm of the association. As a former faculty member and campus administrator, former executive vice president and chief operating officer at the Association of Governing Boards of Universities and Colleges, and as a current board member of both a private liberal arts and comprehensive public university, Johnston knows well the complexities higher education leaders must navigate daily on behalf of students and their institutions.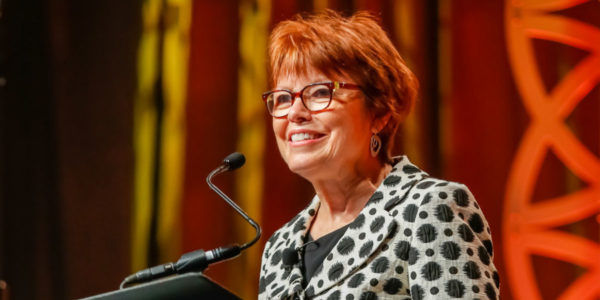 "Like many of you, I work in higher education because I believe strongly in the opportunity it provides students. I believe in higher education's transformational value because I've seen it as I've worked with a range of students, including teenagers, working adults, mothers, veterans, immigrants and those for whom English was not their first language, students from families with great financial means, and students with very little," shared Johnston. "I've seen these students overcome a host of challenges and graduate with life-changing degrees. You see the same on your campuses."
In her address, Johnston encouraged attendees to continue the important work of expanding opportunities for students to transform themselves and their lives, no matter their background. "This work is hard, as you know," said Johnston. "It's challenging because of the economic forces we face—declining state support for public higher education, increasing sensitivity to the cost of attendance, and concerns about student debt."
In addition to the economic challenges, there's also a lack of trust in higher education, noted Johnston, citing a 2018 Gallup report indicating that 48 percent of U.S. adults expressed "a great deal" of confidence in higher education, down from 57 percent only three years prior. "When I say that public trust is one of the greatest challenges facing higher education today, that's not an abstract notion," said Johnston.
Questions from the public and policymakers abound with regard to the cost and quality of an education and its return on investment for taxpayers and for individuals. "Without the public's trust, the financial support we need from states, from the federal government, and from individual donors, is jeopardized. Without this trust, the research our faculty conduct is jeopardized. Without this trust, the regulatory burden you face from Washington and from your state houses grows."
Essential Truth-Telling
To that end, NACUBO has been working hard to address public skepticism, noted Johnston. NACUBO launched in 2017 its Value of Higher Education initiative and earlier this year published its 2019 Perceptions and Priorities report. "Both projects put meaningful data displayed through infographics and PowerPoint slides in your hands, for your use with students, families, board members, community members, and policymakers."
Johnston also voiced a plea: "Today, I'm here to ask you for help. I want to recruit you to be advocates for higher education. NACUBO is asking you to use your stories and your data, from across your enterprise, to demonstrate how you're meeting, and likely exceeding, the value proposition that your college or university offers students, communities, states, and the nation."
This is not a mission for presidents and chancellors only, emphasized Johnston. "Business officers are the very best people for this role. You have the facts, the data, the details, the stories. You can talk about ROI. You are extremely credible in this space, and as a result, you can make a difference in how higher education is perceived by the public and by policymakers."
Johnston appealed to higher education business partners as well, noting the sector's need for help with transforming its business models and finding solutions to the stubborn problems today's colleges and universities face. Those challenges include the need for building data-savvy cultures and making data-based decisions that promote institutional sustainability and student success, noted Johnston. "NACUBO's North Star is the conviction that higher education is an outstanding investment—for students, for families, for donors, and for taxpayers. To make that case, the NACUBO staff is eager to partner with you on strategy, tactics, and information."
Untiring Advocacy
The meeting in Austin also marked the culmination of Lynne Schaefer's term as NACUBO board chair. Schaefer, vice president for administration and finance at the University of Maryland, Baltimore County, passed the gavel to incoming NACUBO Board Chair Lynn V. Valenter, vice chancellor for finance and operations at Washington State University Vancouver, and offered some parting advice to meeting attendees.
"First, let NACUBO staff know your thoughts and ideas for our future—including the challenges you see ahead or unfolding within your states—so that they can continue to provide the information, tools, and vision to help us all be more effective in our positions," said Schaefer. "Second, play a greater role in communicating the value of higher education within your communities, engaging directly with doubters to share a different narrative with them." And finally, urged Schaefer, "Maintain your collaborative spirit, because we are all in this together."
Valenter expanded on Schaefer's request, encouraging NACUBO's membership and annual meeting attendees to become more effective spokespeople on behalf of the sector. Valenter shared that a big part of her role in the coming year will be to make sure that NACUBO members have the tools they need to do just that, building on the powerful collection of resources already in place.
"We must be ambassadors for the value of higher education and its worth to citizens and to society," said Valenter. "We must put the data in perspective and explain the cost of higher education. Together we must debunk the myths and tell the good news stories, including the impact of degrees earned on individual lives and entire communities."
Want More Annual Meeting Coverage?
Check out the impactful speakers, lessons learned, and photos from the NACUBO 2019 Annual Meeting.