---
CAMPUS EFFICIENCIES
Posters Portray Savings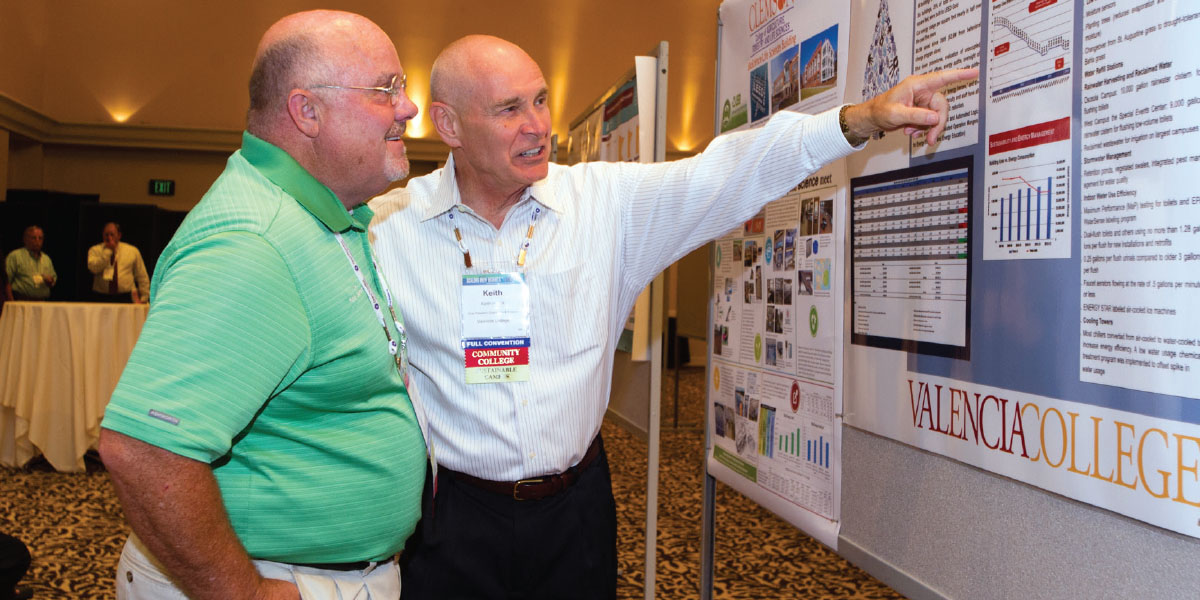 Where will your energy come from in 20 years?" asked one of the 30 posters highlighted at the first Sustainability Advisory Panel (SAP) Open House on Saturday, July 19, prior to the NACUBO 2014 Annual Meeting opening event. More than 100 people attended, enjoying snacks and receiving free books on ways to finance renewables. 
Poster topics included using geothermal energy, developing resources for saving water, engaging in renewable energy options, improving the campus carbon footprint, and engaging students and faculty in saving energy. Following the open house, the posters were moved to two locations in the convention center for all attendees to peruse. 
Members who developed the posters experienced numerous benefits. "It was definitely a good exercise to gather and place this information into a cohesive whole," said Aimee Niendorf, manager, Renewable Energy Institute, University of Wisconsin–Oshkosh. It will be a communications tool, noted William Maki, vice president for finance and administration, Bemidji State University, Bemidji, Minn.: "By discussing our benefits, we were able to remind ourselves of how much we have integrated sustainability across our university. We are posting this document to inform other community members and market our efforts."
Posters were as diverse as the more than 30 campuses they represented. They can be viewed on the NACUBO website at www.nacubo.org/am2014posters. To request an individual poster, contact Sally Grans Korsh, NACUBO director of facilities management and environmental policy.
---
ENERGY PARTNERS
Structured Sustainability
In the session "Strengthening Leadership on Environmental Sustainability," panel members from The Evergreen State College and University of Washington discussed the challenge of maintaining momentum for sustainability projects and goals. Key for these two institutions has been drawing on a diverse group of participants and stakeholders.
Energy and related sustainability concerns have grown increasingly complex, making it impossible for any one individual to know or understand everything, noted Richard Davis, Evergreen's facilities engineer. Sustainability leaders need a diverse and knowledgeable team of advisers. When designing an energy conservation program, Davis suggests balancing conservation goals and institution mission by setting standards that achieve real savings while still allowing for employee comfort and productivity—otherwise, you risk losing important employee buy-in throughout the organization. 
Jeanne Rynne, Evergreen's director of facilities, agreed that the way you go about achieving a goal—from energy conservation to carbon neutrality—can be as important as the goal itself. Set attainable goals, integrate them with faculty and student priorities and projects, identify roadblocks as well as resources, and continually assess the maintainability of your sustainability goals. Flexibility to try new things is a requisite part of recalibration, noted Rynne. 
One overriding strength of the sustainability program at the University of Washington is student involvement, said Ruth Johnston, UW's associate vice president of environmental stewardship and sustainability. Graduate student Graham Golbuff, the university's campus sustainability fund coordinator, spoke about UW's three student-focused and student-led initiatives: a campus sustainability fund for engaging students in shovel-ready projects; a green seed fund focused on student research; and a finance and facilities internships fund to employ students in substantive real-work sustainability experiences across campus. The financial commitments in these areas have helped change the administrative culture at UW, lending seriousness to student interest and involvement, noted Golbuff. 
In addition to strong student involvement, sustainability decision making has now reached a more mature phase at UW,noted Johnston. She works to engage UW students, faculty, and staff through a variety of grassroots coordinating councils representing all facets of academic, administrative, and community activity. With interest in issues of sustainability now having reached broad participation across the university, coordinated leadership has become essential, Johnston said.
UW student presenter Golbuff participated in the session through a student scholarship from NACUBO.