A confluence of research and technology is quite literally reshaping campus classrooms—and the courses taught in them—explains Jeanne Narum, principal, Learning Spaces Collaboratory, Washington, D.C. The result: Fewer traditional lectures and more group projects that promote student interactions. 
"Peer-to-peer learning is the most powerful kind of learning," Narum says. "If you walk into a best practices space for 21st-century learning, you will see students working with, talking to, convincing, and critiquing each other. You will see a student-centered space, rather than a faculty-centered space. Instead of being expected to learn by listening, students are learning by doing." (For more on the LSC and its recent release, "A Guide: Planning for Assessing 21st Century Spaces for 21st Century Learners," see sidebar, "Keeping Pace With Space.")
Ken Sandel, director of physical and capital planning, Purdue University, West Lafayette, Indiana, agrees. "We're looking at how learning occurs on campus, and going from traditional eyes-forward classrooms to more collaborative environments where students have a better ability to interact with one another," he says. "In a tiered classroom, that could be where students in one row can completely turn around and engage with [those in] the row behind them. Or it could be in an open room with round tables where students work in collaborative groups."
This approach, Sandel says, is rooted in research. "More collaborative environments add to student confidence and retention rates, graduation rates, and overall student learning," he says. "We're trying to create the physical environment that supports what the research is saying. It's an all-in activity for our campus." 
While few would dispute that the new technology-equipped classrooms promote learning, the actual conversion of old to new can be a challenge, particularly when institutions run short of time, money, and space. Here's how some administrators are making it happen.  
Hungry for Active Learning
The University of Minnesota in Minneapolis is feeding "a real appetite and appreciation for what we call an active learning classroom," reports Monique MacKenzie, director of capital planning and project management. "The classroom is essentially reformatted—from a traditional style of all seats facing forward toward a single lectern and a speaker delivering a message, to an interactive series of oval tables where students are facing each other and conversing with each other."
The revised format reflects the institution's own research on how people learn. "Students learn best when they are teaching each other, when they are conversationally and procedurally working together, explaining and clarifying together," she says. "We have seen great success in learning outcomes by changing how the material is delivered."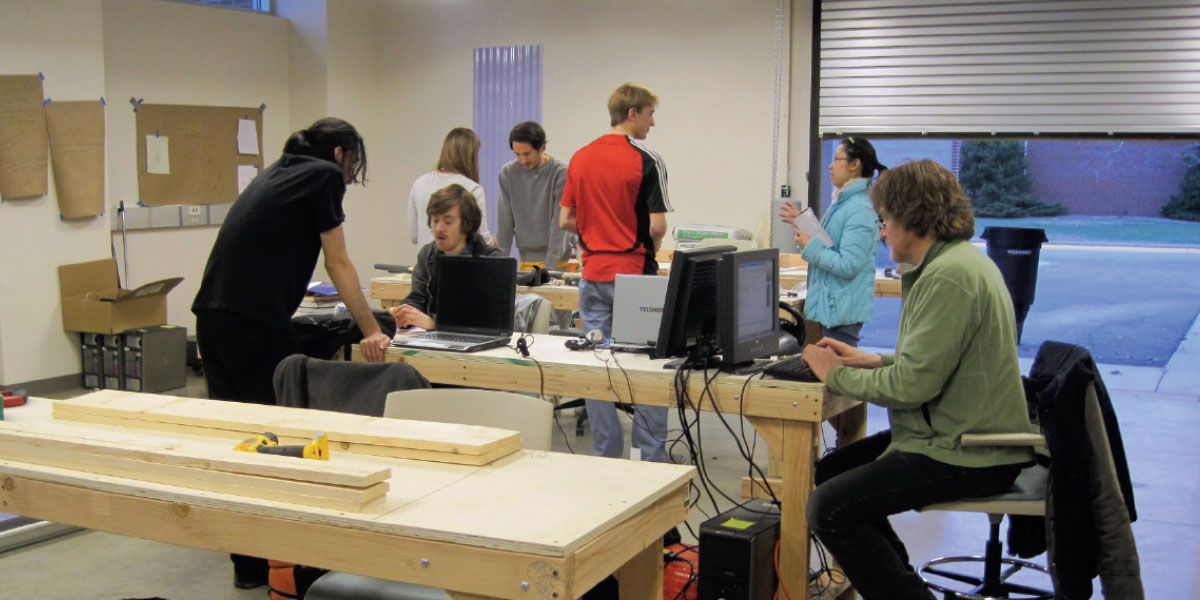 MacKenzie believes that technology adds an essential ingredient to the classroom mix. "An active learning classroom is about changing the seating and changing the relational style of the students, but it's also about equipping the room with enough technology to accept laptop inputs, not just from the instructor, but from the students.  The instructor and the students almost share the role of teaching, just as the technology gets shared. At one point, control of what is displayed on the screen may be in the hands of the instructor, but in the next episode of the class be in the hands of a group of students."
While she insists that an active learning classroom may not necessarily cost more than a traditional classroom—depending on project details—MacKenzie quickly acknowledges that "an active learning classroom is much more demanding of space than a traditional lecture-style setting." 
Right now, she estimates that 16—or only 5 percent—of the institution's classrooms can be classified as having an active learning format. "We are making efforts to understand our total inventory of classroom spaces from the perspective of 'What's the right balance?' Our goal is to create learning spaces that are most effective for learning outcome but balanced by operating costs, infrastructure needs, and technology budgets."
Most of the new capital projects are state funded, she says, with a few high-profile projects supported by fundraising. Money for renovations comes from a multitude of sources, including centrally supported dollars. "We are constantly looking at how to reinvest in our overall inventory." 
In 2013, the institution submitted a capital request to the 2014 state legislature that, if approved, would be rolled out over the next six years. "We believe our needs are in the range of $10 million," she says. "With that amount, we could cover all 29 million square feet of the university system as well as address between 25 and 28 classrooms of 70 seats each. Those targets are based on what we know about our current inventory and how it is performing for us." 
MacKenzie gives credit to the office of classroom management, which is charged with managing, developing, and placing classroom inventory into active use. "Over the past five to seven years, we've had great success with moving from departmentally controlled classrooms to centrally controlled classrooms. As more classrooms move into the office of classroom management, we can touch a larger part of our inventory using centrally supported funds to keep renovations and investments in technology current."
Purdue Seeks Sweet Spot
At Purdue, where some of the buildings have been around since 1869, Sandel has his work cut out for him. "We are adhering to what we call a balanced capital approach," he says. "We look to renovate spaces first and then replace existing facilities, especially where we have deferred repair issues," he says. "Our focus is to alleviate shortcomings we have in our facilities and try to make them as efficient and flexible as possible. We're trying to convert underutilized spaces."
Unfortunately, the new collaborative learning environments require more space dedicated to instruction. "It really changes the amount of square footage per student," he says. "You go from about 13 square feet per student in a traditional classroom to something around 28 to 29 square feet per student. The sweet spot we're trying to build to is classrooms that hold 60 or 100."
For example, he says, the institution may take a large 400-seat lecture course and reconfigure it so the lecture is handled online and students arrive in renovated and reduced-in-size classrooms for collaborative work. "As courses are transformed to this new style, we are trying to keep pace on the facilities side with delivering the classroom that supports the course transformation. We're trying to keep up. That's a challenge. We're looking at how we can add a couple of these classrooms every year."
A variety of sources contribute to the tab for renovations, which he estimates range "from tens of thousands to several million dollars, depending on the current usage and state of the facility." He relies heavily on a repair and rehabilitation (R&R) program that invests dollars on an annual basis to update building deficiencies, as well as contributions from state formula funding, student fee allocations, and general funds. 
For example, he says, while working on a space with known deficiencies, such as an aging electrical or HVAC system, he might tap the R&R budget to pay for the parts of that initiative that address R&R issues. "If there is a gap in funding, which there typically is when you're modernizing space, we look to other sources of support."
At Purdue, the mandate for "transformative education" is one of a series of strategic priorities with high-level backing, Sandel says. "These initiatives are board of trustees—and president-level on down," he emphasizes. "Everybody is engaged, whether contributing resources or looking at how they can support what we are attempting to accomplish. If you have a balance carryforward in your budget and it is more than [what is] needed for your commitments, those funds are being returned to support strategic initiatives."
Sandel hopes to add a new facility with 20 collaborative classrooms in 2017.  Meanwhile, he concentrates on meeting current requests for space. "My job," he says, "is to find and take what the provost says he needs," he says. "If he needs three 60-student classrooms with a mix of high and low tech, my job is to identify potential spaces and formulate a plan for completion. My prioritization is working with all of the units that occupy those spaces to determine if we need to vacate people from spaces and [determine] where can they go."  
Georgia Tech Tests Classrooms
The classrooms at the Georgia Institute of Technology, Atlanta, are under the microscope, reports Steven Swant, executive vice president for administration and finance. 
"We've been going through an assessment and a planning process to take things to the next level in terms of learning technologies," he says. "We're documenting simple things: the room's configuration and lighting, as well as any issues with accessibility, public or life safety, physical plant, and technology. With academic assistance, we're coming up with physical and technology-based configurations for these classrooms, as well as strategies for how we might over a multiyear period direct resources to meet those needs."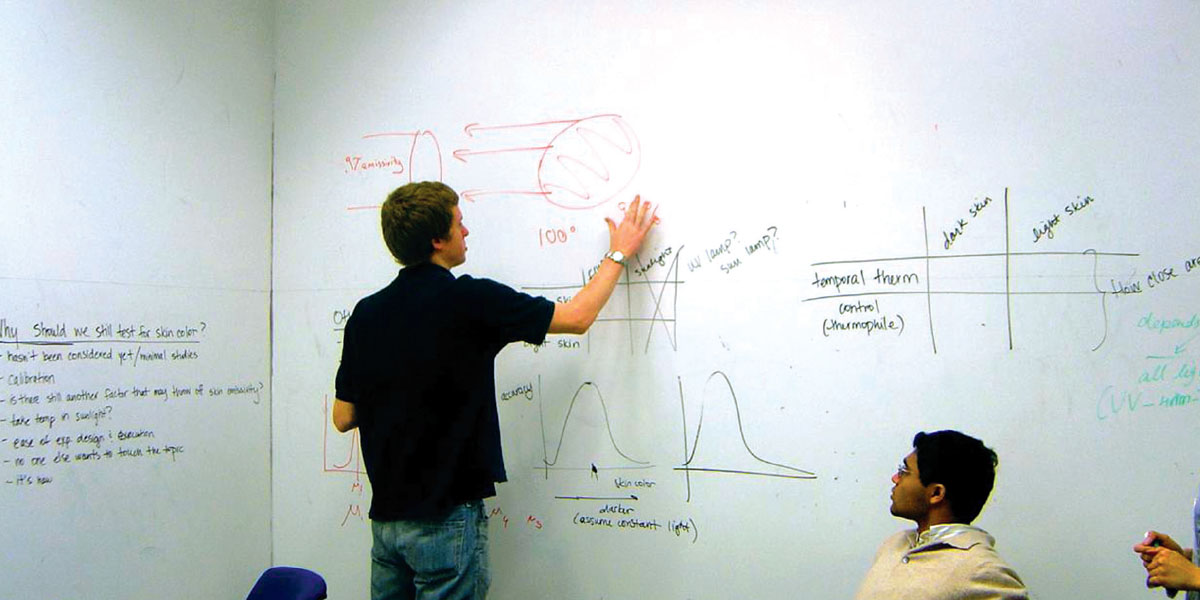 His challenge in the institution's classroom improvement program, Swant says, is staying one step ahead of potential requests. "Working in collaboration with our academic colleagues, who imagine the appropriate learning space environment and technology, we look at what we have today and where we need to get to. The challenge is to run as fast as our faculty or, in some cases, to be out ahead of them so we can set up circumstances to allow them to experiment and expand their program activities."
He explains that two campus organizations devote staff and resources to the study of learning. The Center for the Enhancement of Teaching and Learning takes a practical, hands-on approach to creating prototype technologies and learning programs, as well as developing faculty training. The second entity, the institute's Center for 21st Century Universities, he describes as a "forward-thinking, far-reaching academic unit that acts as a living laboratory and looks at next-generation educational practices." 
Another challenge Swant identifies is financing the expansion or the enhancement of core classroom learning spaces. "Often classroom instructional space can get lost in other priorities. If you're not careful, you can fall behind the curve on having appropriate and modern environments. In a large research university, classrooms are essential; but they are not a large percentage of your overall space, so it's very easy to overlook that investment requirement."
Georgia Tech mitigates that risk by methodically directing a portion of operational maintenance funds to painting and updating classrooms. "You have to be deliberate about that. We have set aside on a recurring basis funds to replace simple things, like chairs and whiteboards. Technology is harder to chase because the variety of equipment you need in a classroom literally changes day to day."
Swant quickly points out, however, that not every classroom in your inventory warrants the same degree of technology. "You can't necessarily afford high-end technology in every single physical location. There has to be some level of prioritization and distribution. Plus, not every faculty member prefers to use the latest technologies in the classroom." 
Connect the Correct Dots
Campus leaders agree that moving toward an active learning environment takes time. Lots of it.
"This is a complicated process," emphasizes Narum, of the Learning Spaces Collaboratory. "You have to connect the dots between and among faculty development, curriculum development, and the redesign and reshaping of the physical space in which those programs and pedagogies happen." 
Leaders share three lessons they have learned along the way.
Take a trial run. Setting up a "test kitchen" or "sandbox" is a critical best practice, according to Narum. "I'm finding more and more campuses are experimenting with new technologies and pedagogies in their own settings to find out what works for them, rather than cloning what another campus has done."
That was the approach taken by Estrella Mountain Community College in Avondale, Arizona, beginning 13 years ago. "Our original classrooms were pretty typical," recalls Bryan Tippett, vice president of academic affairs. "The rooms were 700 to 800 square feet, kind of dismal, not a lot of life or color, and not very inviting. As enrollment continued to grow, we needed to add more space."
To discover what environments were conducive to learning, the college created two prototype classrooms and asked faculty and students for feedback. On the faculty's wish list: flexible space with no front or back to the room. "The faculty needed to be untethered from the structure of the classroom," Tippett says. "They wanted to be able to circulate around students to facilitate peer-to-peer interaction, as opposed to playing the superstar teacher doing a 'stand and deliver.'"
With each successive construction project, Estrella Mountain continues to refine the model established with the original prototypes. "We don't call them classrooms anymore," he says. "They are 'learning studios' with all the latest bells and whistles in terms of technology. They are built to accommodate 32 students maximum, although that may be too large for some disciplines. That is an ongoing conversation we are having, because we also need to be able to do things efficiently in terms of our resources."
Consider the consequences for faculty. While some faculty members may enthusiastically endorse a change in their curriculum and instruction methods, others may drag their feet. "You have to be sensitive to the fact that these new spaces can be uncomfortable for some faculty," Narum says, adding that a prototype can often help ease the transition by allowing instructors to experiment with new methods of instruction.
What you don't want, she says, is to build a new facility with student-centered learning spaces that are equipped with the latest technology and then have an instructor walk in and say, "There's no front of the room. I need my podium."  
According to Narum, "The biggest challenge is faculty who haven't yet bought into 21st-century pedagogy, but you can't wait until everybody says, 'Yes, this is what we want.' Some faculty may need a nudge." 
Develop targeted budgets—but don't be miserly. Business officers need to create budgets with detail and a strong definition of purpose, advises MacKenzie, even if that limits their flexibility to respond to changing classroom needs. "Being able to reserve funds that can be deployed to respond to the needs of the moment is important but you can't let budgets be too generic or too manipulated. You have to define the criteria and thresholds for their use."
As you create the budget, you may feel a natural inclination to be prudent and conservative about spending more dollars on the learning space, she says. While you need to be a good steward of resources, you can't pinch pennies to the detriment of student education. "It's a real conundrum," she says. "If we aren't careful about resources, we could undermine the institution's ability to continue delivering education. But if we don't think about which pieces of our inventory we can diversify to get to those better learning outcomes, we are limiting our long-term viability."
MARGO VANOVER PORTER, Locust Grove, Virginia, covers higher education business issues for Business Officer.
Credit: Perdue University
Credit: The Georgia Institute of Technology