Edward A. Kania didn't plan on becoming a business officer. Like so many others in higher education, once Kania experienced the satisfaction of working in this field he found it impossible to leave.
In 2019, after serving nearly three decades in higher education, Kania received the Service to NACUBO Award in recognition of his numerous contributions to the association, including as a faculty member for its Future Business Officers program and as a peer mentor for graduates of the New Business Officers program.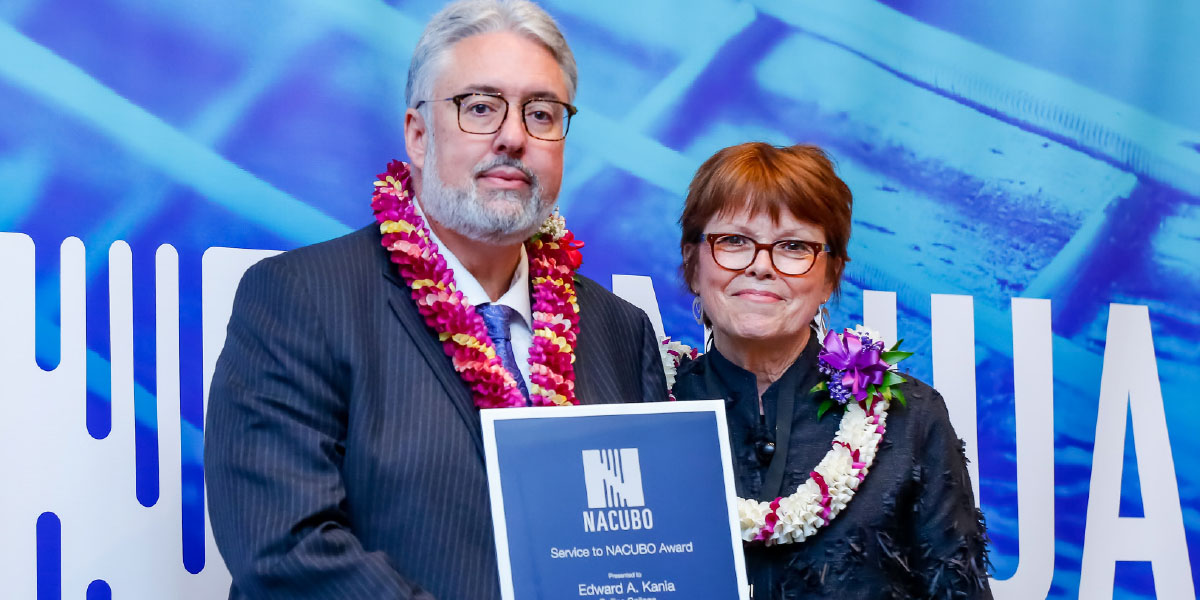 "Getting into higher education was serendipitous," explains the vice president for business and finance and treasurer, Rollins College, Winter Park, Fla. "I never had a desire to be a higher education administrator, but I discovered early on that I had the ability to make a difference at an institution. I find it inspiring to be surrounded by role models with integrity, drive, and passion."
You have been a speaker on multiple topics for NACUBO and many other organizations. How do you find the time?
It's not a matter of assessing whether I have the time. I am empowered by working for a president who believes that we need to improve higher education in general. We as business officers have an obligation to empower the next generation of leaders, just as the people who came before us did for us. Business officers who really want to leverage their time and have an effect on the industry should contribute time to NACUBO. If you put a little energy into NACUBO, you will get an exponential return.
Frankly, when I teach at NACUBO meetings it can be intimidating because I know there are people in the audience who may have as much or more knowledge than I do. As a speaker, I tend to think of myself as someone who facilitates the discussion of best practices across the industry. By collaborating with our colleagues, we combine our knowledge.
You once gave a speech titled "Managing Your Job and Supervising Your Supervisor." Can you elaborate on this topic?
It comes down to open communication, being honest, and not automatically agreeing all the time. I count on the people on my leadership team to be honest and say, "That's a good idea but not the best idea." What ultimately matters is not whose idea gets implemented but that the institution gets the best idea.
As leaders, we need to practice not being defensive. If somebody comes to me with constructive feedback, especially if I own the project, I pick up a pen and piece of paper and take notes. By receiving ideas gracefully, I am able to generate more feedback than I would otherwise have been given.
How does that approach affect your interactions with the campus president?
As the CFO, my job is to provide information and feedback on any given topic to make sure the president can make a fully informed decision. It's not my job to have an ego attached to the outcome.
While you were vice president of finance and administration at Davidson College in North Carolina, you incorporated a process into the budget that allowed for reallocation of resources to the highest priorities. How did that work?
It worked differently every year. Truly. We've done the same thing at Rollins. We try to identify areas where we can either eliminate programming or improve cost effectiveness so we can shift existing resources to higher priorities. If we want to create a new initiative or program, rather than looking for new money—which means finding new revenue or increasing tuition—we ask, "What can we stop doing or do more effectively?"
Who approves reallocation of funds?
The assistant vice president for finance and I work with the president's cabinet, representing each of the divisions across campus, and develop a budget recommendation for the president, who then takes it to the board of trustees for approval.
What are some skills that CBOs need to have in order to be successful in today's higher education landscape?
CBOs need to understand the challenges and opportunities in higher education and be thought-partners in addressing them at their institutions. Strategic resource allocation is more important than ever, and that requires strong communication skills and the ability to make decisions collaboratively. Ultimately, the ability to think critically and creatively about complex and evolving issues is the greatest skill for a CBO to have.
What key insights have you gained in your career?
Over the years, I've learned that:
Education is life-changing, and we collectively need to work to help people gain access to higher education.
Passion for your institution's mission is a prerequisite for true job satisfaction.
I find great joy in the success of the people around me and feel a strong responsibility to empower and encourage them.
Mission-based collaborative outcomes are far more important than individual success.
MARGO VANOVER PORTER, Locust Grove, Va., covers higher education business issues for Business Officer.