During a recent Go Texan Day at the University of North Texas in Denton, Senior Vice President of Finance and Administration Bob Brown showed his Lone Star pride by putting on his 10-gallon hat and rounding up a posse. His intent wasn't to capture outlaws but to collect food for the UNT Food Pantry, which supports students in need. "I believe we all need to have a common purpose," he says.
It was Brown's team within the division of finance and administration that originated the idea. Tasked with planning for the annual division conference day, the team was looking for an activity that would generate excitement across its diverse division of more than 500 employees. Team members also felt it was important to address a UNT student need. Buying and providing food for the pantry was their answer, and everyone jumped on board. "Because the university community at large is dispersed throughout the summer, the pantry didn't have the food it needed. Our division is here 365 days a year. All of us can contribute and hold our heads up high as we address a concern that is emerging at the university: food insecurity that our students may be facing," says Brown.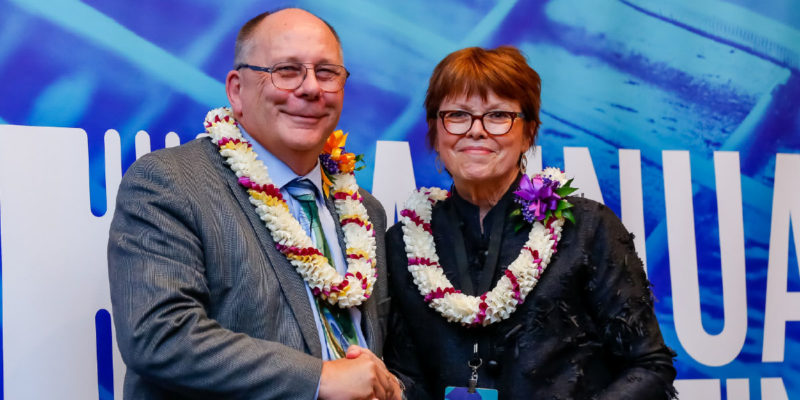 Business Officer recently interviewed Brown, who received a NACUBO 2019 Distinguished Business Officer Award, to learn more about the insights he has gained from his three-decade career in higher ed. This most prestigious NACUBO award was given to Brown in recognition of the outstanding contributions he has made to business and financial management in higher education.
You've mentored three NACUBO Fellows and several CBOs. How did you help these employees succeed?
The three Fellows I nominated had good native intelligence, the desire to continue in university finance, and a willingness to do the extra work necessary to learn and grow. I stayed by their sides and met with them on a regular basis.
I get satisfaction out of helping others grow, but I can't take credit for their success. I'm just happy to be part of their journey.
Did you attempt to retain the employees who became CBOs?
My goal is to help people progress. Sometimes there are opportunities to grow inside current institutions, but not always.
Who has been a mentor to you in your own career, and what impact did he or she have on you?
When I first started out, Ted Hughes, vice chancellor of business affairs for the Dallas County Community College District, helped me get involved in SACUBO and CCBO (Community College Business Officers) and kept making sure that I had opportunities to take responsible risks and grow my skills.
You once forced an employee to take a vacation because you didn't think he or she was spending enough time with family. Is that indicative of your philosophy for work-life balance?
I believe that good employees have a strong balance between their business and personal lives. I once made a tour of several organizations teaching a session called "Only the Dead Have Done Enough." Sometimes organizations will take all that you give without paying attention to who you are as a complete person. This session gave people tips on recognizing when their lives were out of balance.
What advice do you have for Business Officer readers?
Take inventory. Look at the last couple of months. Where have you spent your time? Where do you want to be? Is that what you believe is important? If not, you need to make changes.
You headed a partnership between UNT and the city of Frisco, Texas, that included the purchase of a 50,000-square-foot office building and 100 acres of land. How did this partnership come about, and what was the secret to your successful negotiations?
Our partnership with the city of Frisco began with a conversation over a cup of coffee between a former mayor of the city and UNT's president, and eventually we came to a mutual agreement on the objective of the arrangement. Frisco is a fast-growing city just north of Dallas and a hub for new business development.It's an area that still has land and good roads and is close to an airport. As a Tier One institution, UNT wanted to play a role in its own continued growth and the quality of life of our students and community.
The 100 acres is next to a future city park. We agreed to do our best to make it a green campus and extend the walking trails through the city park and campus. The city understood that we would be a good business and community partner and that we wanted to be an important part of the fabric of the community. Once we all agreed that we had the same objectives, getting the deal done was fairly easy.
What is a responsibility you have now that, when you started in higher education finance, you never imagined you would be doing?
I never imagined that I would have spent two decades with various police departments reporting to me.
As you look forward, what goals do you still want to accomplish for your own career and for the university?
I want to make sure that when I leave UNT there will be at least one internal candidate who can legitimately compete for my job. I want to finish development on a new campus master plan, and I want to help others in my division who are leading a culture of continuous improvement through their use of the Toyota Production System methodology to provide the best quality, lowest cost, and shortest lead time through the elimination of waste.
How can business officers achieve your level of success? What steps should they take?
They need to first understand whothey are as people and what they want to accomplish. They need to view higher ed not only as a career but also as a vocation and an avocation and invest in their personal development. I have far exceeded where I thought I would be in higher ed because of the people I have encountered—the mentors who tested me, the faculty and senate who pushed me, and the people who worked for me.
In higher ed, we're around smart people all the time who can challenge you and drive you to be your best.
MARGO VANOVER PORTER, Locust Grove, Va., covers higher education business issues for Business Officer.