Cloud services, once considered a somewhat risky, pie-in-the-sky extravagance, have quickly become an everyday commodity in institutions—both large and small. To discover how colleges and universities are forging ahead with cloud technologies through collaboration, adoption, and aggregation activities, Business Officer interviewed the chief business officers and chief information officers of three institutions about their past experiences and future plans.
No Big Deal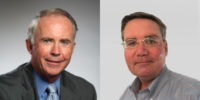 For users, moving campus e-mail to the cloud in 2012 was no big deal, says Robert G. Moore, senior vice president, finance and administration, and treasurer, Colorado College, Colorado Springs.
"People don't even realize that we are using the cloud," he says. "If you check around the college, the recent technology changes have been improvements, and people are not aware of how those improvements are accomplished. To the user, it matters not."
Brian Young, vice president for information technology and chief technology officer, agrees. "Our e-mail and calendar services use the Microsoft Exchange platform, which allows students to share class materials through Google Docs, and engage in collaborative work on PowerPoint or spreadsheets. Ours is a hybrid, shared-cloud space with Microsoft. Most people don't know where the e-mail and calendar information is stored. They don't realize that it might sit in Seattle, rather than in a data center in Colorado Springs. The key for end-users is to know that their services work and their data are secure."
In 2012, the college began the transition of Microsoft Office 365 and e-mail for students, faculty, and staff to a cloud-based provider. The liberal arts college, which was founded in 1874, has 2,040 resident undergraduate students, 180 tenure/tenure track faculty, and 440 staff.
"The college looked at the equipment needed on premise and measured it against the services that Microsoft and Google were providing," says Young, whose IT unit has 43 full-time staff members. "The move made a lot of sense given space demands for the storage needs of mail and attachments, and the licensing environments for unlimited use for alums and others. We determined that making the switch to one of the off-premise platforms, such as Google or Office 365, would be the right step."
Moore, who was involved in the initial decision but was not the lead decision maker, says that the decision to move e-mail services to the cloud made sense financially, although economics wasn't the sole motivator.
"My job is to be sure that Brian knows what funds are available as he makes investment decisions for the college," Moore explains. "We do have a campus budget committee, and the president has appointed Brian to a term there. Brian has to figure out how to prioritize all of the campus demands for technology services, which is a fluid market. I am involved in the big investments, not the small-level decisions."
Until Young joined the college two years ago, Moore explains, the college was not aggressively investing in IT. "We felt we didn't have the proper leadership to make decisions. Now we're playing catch-up. We're behind but making good progress. The cloud is not the issue here. It's how much can we invest to rapidly get up to speed and everywhere we need to be."
In 2013, the college also moved its learning management system to the cloud. From a technology standpoint, one of the advantages of a cloud-based learning management system is the pay-as-you-go strategy, according to Young. "If we see that storage is getting to a threshold of a certain amount, we can call the vendor and have that turned up or down. We don't have to buy oversized servers that go unused."
Insure Against Leaks
While Young takes the lead in technology choices, Moore has been instrumental in obtaining cyber liability insurance in the event of a data leak, either from a vendor or internally. "This is just part of the technology evolution," Moore says. "People understand that you have to insure in the case of a car wreck or a slip and fall on the ice, but it has taken a while for people to understand that they need to protect the institution against a data breach."
The insurance, available from many firms, typically covers one or two years of credit monitoring or personal Social Security number monitoring, as well as the cost of notifying affected parties that their information may be at risk. "At some campuses, this coverage falls by the wayside," Young says.
Both executives encourage business officers to take a careful look at a vendor's cyber liability insurance before signing a contract with a company. "For every decision we make, we have to think about risks we're taking," Moore says.
What's Next?
By 2018, if they haven't already, vendors are going to initiate conversations about moving campus enterprise resource planning systems into cloud services, Young insists. "In the next two years, I can tell you that without question every campus, as its ERP contracts come due, will be having serious conversations about what components of ERP campus data should reside in the cloud, whether private or public or hybrid," he says. "That's the way vendors are going. In fact, some of the newer ERP vendors now offer only cloud-based service."
The direction Colorado College takes with its ERP system will be determined by members of the president's cabinet, Young says, after he provides them with appropriate data. "Because our ERP system houses extremely sensitive data, lots of questions will have to be asked and answered first."
Moore predicts a gradual and systematic movement to the cloud. "We'll have to figure out what's right for the college. We will step through this based on what the private sector can provide and what our priorities are." He recalls the time many years ago when a board member asked him, "When can we quit investing in computer stuff?"
"It's finally been accepted that IT is a never-ending and ongoing investment," Moore concludes.
A Leap of Faith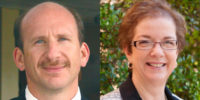 Moving a mission-critical service to the cloud in 2009 required due diligence—as well as a leap of faith, says Jack Suess, vice president, information technology and CIO, University of Maryland Baltimore County (UMBC).
"We decided that the best products in the marketplace to support our student billing operation and parking services were software-to-service products that had recently come out," he recalls. "By going to a third party, we were able to get benefits that would have been difficult for us to implement internally. We took this initial leap of faith because we understood that it would offer a lot more functionality, especially for students and their parents."
UMBC, a public research university, has 11,243 undergraduate and 2,596 graduate students, 527 faculty members and 1,288 staff members, and a $420 million operating budget.
Looking back, Lynne Schaefer, vice president, finance and administration, points out that the transition wasn't without risk at the time. "Using a vendor you don't control can be a concern," she says. "Especially around student billing, we needed responsiveness in our business systems. When buying from an outside vendor, you don't necessarily know exactly what you're getting. You are making an arrangement to get what they are offering."
Continuing that train of thought, Suess explains that software developed in-house often goes through multiple iterations until it is customized to an individual institution's needs. "When you buy a package from a vendor, you have to be very specific," he says. "If it doesn't work as expected, and the vendor has to make adjustments, you pay more money. Defining the requirements is a challenge in many parts of higher ed."
A Quiet Transition
Although initially concerned about the lack of control and security of data, Schaefer reports that the transition of 50-plus campus services to the cloud in the past six years has been a nonevent. "In many ways, it's been somewhat invisible. Although people often grumble about having to learn something new, it's been relatively quiet because people have the sense that we are moving forward with some rapidity in improving our technological environment."
Suess believes two factors have helped curb any of the discontent that usually surrounds change. "When we first proceeded with this in 2009, using cloud services seemed a little unique. Now in 2016, people—especially younger employees in the functional offices—want to explore these opportunities and feel empowered to bring new ideas and approaches to the table."
In fact, Schaefer believes that the ability of these employees to identify new products to improve work performance makes UMBC an exciting place to work. "We're not trying to be a traditional, let's-do-things-the-same-old-way workplace, which gives us the opportunity to attract and retain really talented employees who are excited about change."
The second factor, according to Suess, is the intentional effort by the IT team to improve and simplify the user experience. For example, before agreeing to proceed with the student billing effort, he insisted that the vendors maintain a single sign-on environment.
"The vendors agreed as part of the procurement that they would support the InCommon model authentication for us, which allowed us to easily integrate our single sign-on," he says. "When we can't integrate software in that way, we have found that it doesn't get adoption. If users have to create a separate password and manage multiple complexities, it's not a good user experience. We want to maximize the user experience of students, faculty, and staff, even if it's not as perfect for the back office."
Steady Expansion
In the last seven years, UMBC has steadily expanded its transition to cloud services. "By creating an environment where we can easily integrate cloud solutions into our campus, we're able to innovate faster and provide the functional offices with more capabilities to take advantage of technology and do their business better," Suess says.
He particularly likes the cloud's "elastic computing" feature, which allows Suess to scale the resources the institution buys as demand fluctuates. "You can expand and contract cloud computing power as you need it," Suess says. "In January and the summer, when it's slow, you can reduce what you're using. In September, because that's the start of the fall semester, you may want to buy more. Being able to expand and contract gives universities the ability to rightsize the amount of computing to their needs."
According to Schaefer, UMBC's participation in the NET+ initiative offered by Internet2 has given campus leaders the capability to tap into cloud services with a level of comfort that wouldn't have been possible if proceeding alone. "The NET+ model capitalizes on some of the best minds in higher education to define service provision and legal requirements, and leverages our buying power to get products designed for the higher education environment, which has given me the comfort level to say, 'Yes, let's do more of this.' We could not do this on our own. We simply don't have the resources.
"We're a public university with all of the challenges that implies," Schaefer continues. "We would like to improve service to our customers and improve the way we do business for greater efficiency, and we simply don't have the resources to do all that we want to do on our own. Plus, it doesn't make any sense in many cases for us to try, if there are vendors in the higher ed space with experience and an understanding of best practices across similar institutions. We can tap into that without trying to reinvent the wheel."
Delivery Modality Loses Distinction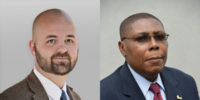 Even a handful of years ago, the cloud didn't have the kind of power and resources you can get nowadays, says Bradley Kendrex, vice president, administrative services, Chandler-Gilbert Community College (CGCC), Chandler, Ariz. "To get a product with substantial features, the only real option was to host it yourself. Now, information technology is commoditized in such a way that you don't have to build the infrastructure, because it's already built elsewhere to scale."
Because of the progress in cloud technology, the decision-making process for CIOs and CFOs examining technology solutions has undergone a subtle change, Kendrex says. "The cloud is just a tool in our toolbox," he emphasizes. "This is the way the world is moving. When we look at options and crunch the numbers, we look at the product and the vendor. The delivery modality is one of the many variables. Our decision has very little to do with whether it's locally hosted or in the cloud. That distinction has faded away."
Chandler-Gilbert, with 7,740 full-time-equivalent students, is one of 10 institutions that make up the Maricopa County Community College District, whose programs vary from a two-year associate degree and occupational certificates to online classes and dual-enrollment programs. Kendrex indicates the Maricopa system is in the process of moving its entire enterprise system to a cloud-based provider.
Why build a data center and then fill it with expensive servers if it's not necessary, wonders Charles Nwankwo, vice president, information technology and media services, CGCC. "The CIO and the CFO are always looking for a way to minimize costs—or at least predict costs," he says. "That's a viable reason why colleges might want to explore a move to the cloud."
He compares the cloud business model to leasing a car, rather than buying it outright. "Instead of plunking down tons of money to buy, maintain, and staff your data center, you let other entities do that. Instead of a capital expense, it becomes an operational expense."
In addition to avoiding large capital outlays, opting for cloud technology can obtain other benefits, Kendrex says. "As we integrate more services into the cloud, the raw cost may be the same, but we're hedging our risks in other regards. Building data centers and hosting our own software requires a level of maintenance and redundancy. By paying a provider the same or even a little bit more, we're getting a level of expertise and backup, and redundancy that we wouldn't otherwise have. We're trying to strategically figure out where we want to hold the risk and where we want to spread that out."
Collaborative Communication Plans Are Essential
Nwankwo, who joined the college a year ago, believes a close working relationship among the CFO, CIO, and chief academic officer is essential to implement any large technical project. "In an academic environment, we need to get people in the decision-making apparatus to understand a proposal, give their support, and work together. In my career, I've been very fortunate to work with CFOs who understand IT requirements and needs."
To avoid unnecessary turbulence among users and staff, both executives advocate continuous communication about planned changes. "So often in these situations, IT and administration will get together and talk about what makes sense from a technical and financial perspective," Kendrex says, "but we also need to make sure that the end-users understand the direction we're going and whether changes in product or modality will add or take away features."
He explains that moving to the cloud certain services, such as the current shift in financial systems, has reduced the ability of CGCC users to take advantage of customized tools to which they had become familiar, but with which, in the big picture, will increase their ability to perform campuswide functions. "When communicating with the people involved, we talk about the trade-offs so that they understand what they are getting for what they give up," he says.
By keeping technical staff in the loop, Nwankwo emphasizes, institutions can avoid unnecessary anxiety by employees who spend their workdays wondering, "Am I going to have a job?" The community college's IT employees, many of whom have assumed new roles and responsibilities as the cloud transition has progressed, are being trained to manage and monitor vendors instead of systems, he says. "Project management is the business model we're now in."
Kendrex believes that leaders need to keep an open mind when evaluating options and maintain clarity about what they are trying to accomplish. "Understand your end goal so that you can talk to staff and stakeholders about what you're trying to do and what the options are," he says. "Whatever choice you make will go a lot more smoothly."
MARGO VANOVER PORTER, Locust Grove, Va., covers higher education business issues for Business Officer.