When Susan Whealler Johnston became NACUBO's president and chief executive officer last August, she emphasized her intent to interact with and listen to the association's members in order to gain an understanding of how NACUBO could better serve their needs. Johnston has a guiding philosophy: to actively seek input from stakeholders, which she uses to inform her decisions.
"My No. 1 priority is making sure that we are in touch with, and responding to, the needs of our members," says Johnston, who had been at the Association of Governing Boards of Universities and Colleges (AGB) since 2000, and most recently served as its executive vice president and chief operating officer. "I want to get to know the members: what they expect from NACUBO; what they appreciate about what NACUBO does currently; and what they'd like to see NACUBO do in the future."
Johnston recently met with Edward A. Kania, vice president for business and finance, and treasurer at Rollins College, Winter Park, Fla., where the two discussed a variety of issues, including effective leadership skills, the CBO role, and the challenges higher education is facing today. 
Like Johnston, Kania firmly believes that leaders need to seek other people's perspectives to be able to succeed in their roles. Kania is also new to his current position—before making the move last summer to Rollins, the longtime NACUBO volunteer was vice president for finance and administration at Davidson College, Davidson, N.C. At Rollins, he is responsible for the institution's risk management and insurance programs, real estate ventures, commercial interests, debt management, project management, institutional budgeting, security and information services, auxiliary services, human resources, facilities maintenance, and campus master planning.
Together, the two higher education leaders represent a range of shared governance. Kania, who began his career at a Big Eight accounting firm, has 28 years of experience in higher education accounting and finance. Johnston, who earned her bachelor's degree from Rollins, currently serves on the college's board of trustees; after earning her master's degree and Ph.D. from Purdue University, West Lafayette, Ind., she spent 18 years as a professor and dean at Rockford University, Rockford, Ill.
Here are the highlights of their discussion, which was facilitated by Business Officer magazine:
Starting a New Position
JOHNSTON: Ed, you began your career in higher education as a controller, eventually became the CBO at Davidson College, and recently joined Rollins College. How do you prepare to assume a new role and new responsibilities?
KANIA: When I came to Rollins, I wanted to learn about people's perspectives on the college's mission, strategic direction, operations, and areas that I manage—I wanted to hear ideas they had for improvement. In my first 90 days here, I spent a lot of time meeting with people on campus, board members, and people in the surrounding community and town government.
I kept an open mind while I listened to them. But, at the same time, I used my prior experiences as a filter to discern areas where Rollins was clearly in accordance with best practices and where there might be opportunities for improvement. For me, the biggest key was not trying to replicate my previous experiences, but to draw on them.
At Davidson, I studied design thinking to be able to better analyze and communicate about the college's finances, as well as to help the president create cultural change through informed risk taking. At Rollins, I heard colleagues discussing alternative design possibilities for several construction projects, including parking. We were able to identify a holistic concept for our parking problems that will save millions of dollars and result in a better parking strategy for the entire community.
KANIA: You have a new position as well, Susan. What helped you make the transition?
JOHNSTON: I found that getting the perspectives of the NACUBO community was essential as I prepared for this change. You may remember that I called you early on because I wanted to understand how you—as an experienced chief business officer—view NACUBO, and also to find out about the value the association provides. I also talked to many other people who have been in higher education for a long time.
I spoke with staff members at NACUBO, who are very well-informed and connected, as well as NACUBO board members, the majority of whom are chief business officers. Their perspectives were very valuable—not just as leaders of the organization, but also as members who have opinions about the work NACUBO does.
In the many conversations I've had with NACUBO members, I've heard repeatedly that they look to NACUBO to lead, whether it's in advocacy, in best practices, or in new ideas related tothe challenges facing higher education. I've been struck by the depth of commitment to NACUBO as "their" association—the place they turn to for advice, information, and networking. NACUBO will continue to work hard to demonstrate this leadership and to deserve this commitment.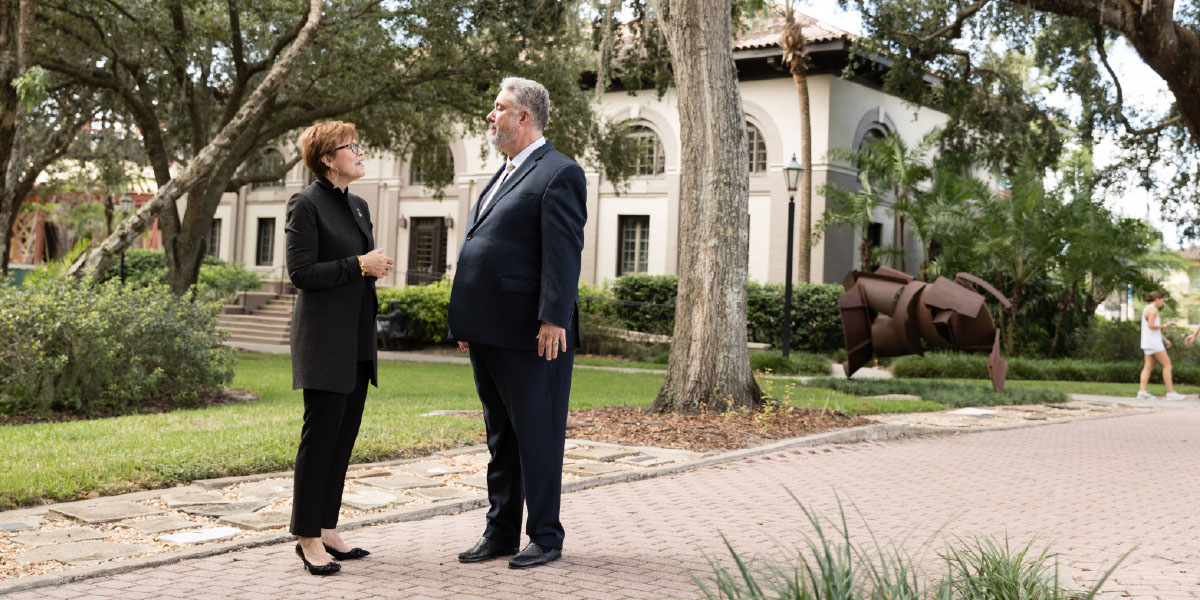 Leadership Style
JOHNSTON: Leadership is a critical component of the CBO role. How would you describe your leadership philosophy?
KANIA: I believe that you should never stop growing as a leader. And one way to continue doing that is through professional development. In addition, you need to seek honest feedback on your leadership from within the institution where you work.
I like to create an environment in which employees feel challenged and can develop professionally and, at the same time, feel fully appreciated and supported. In other words, I want to exhibit kindness, patience, and humor in the workplace. I've always worked hard to help employees be recognized as subject-matter experts—because that's exactly who they are, and they deserve that designation.
I wondered what would change about my leadership style when I came to Rollins. The answer is: nothing. This place is authentic, and the people are wonderful. As I get to know everyone better, I am understanding how I can tailor my leadership style to help empower people on an individual basis and support the overall institutional culture.
People should also have fun while working. Sometimes, people mistake fun for a lack of seriousness or purpose. But none of us would be working at a college or a university if we weren't passionate about higher education and its mission. You miss a real opportunity within the workplace if you don't get to know the people you work with and see humor in frustrating situations.
KANIA: As the first female president of NACUBO, do you believe that you bring a different outlook to your leadership role? What are some of your priorities? 
JOHNSTON: I'm very proud to be NACUBO's first woman president and CEO. And I will be a different leader from my predecessors primarily because we are living in a different time and environment. One of the differences you might see is my depth of knowledge of higher education from the variety of perspectives I've had during my career.
More generally speaking, I want to celebrate women's leadership in higher education. In the United States today, women earn more than half of the undergraduate and graduate degrees. Women represent nearly half of all faculty members in higher ed institutions. But less than one-third of campus presidents are women—and less than one-third of our chief business officers are women.
We are educating women for leadership. But we're still in a place where we need to celebrate, support, and encourage that leadership, because it's not yet happening at the top levels as it should. We could say the same thing about CBOs of color.
As more chief business officers retire—and we know from NACUBO's demographic studies that these retirements will happen sooner, rather than later—we need to have the pipeline filled. We need to find people who can successfully take on this role, as well as reflect the demographics of our students. If you walk across any campus today, you'll find many students who would love to see institutional leaders who look like them.
My key focus is on the five priorities outlined in NACUBO's strategic blueprint. These priorities are: (1) engaging institutions in undertaking necessary transformations to strategically position themselves in a dynamic higher education environment; (2) increasing proactive advocacy; (3) driving effective solutions in higher education; (4) strengthening the strategic leadership role of the CBO; and (5) leading higher education's integration of analytics to achieve institutional strategic goals.
Chief business officers will help us understand and address some of the critical issues facing higher education today. In fact, that's the reason I wanted to work at NACUBO. By working with this group of higher education leaders—harnessing their knowledge, experience, and strategic thinking—I have an opportunity to make a difference in higher education.
Working With Boards
JOHNSTON: What advice would you give to chief business officers—particularly new ones—when they move into a role that requires working with a board?
KANIA: You need to be in sync with your president and understand the relationship he or she likes for the cabinet and the board to have. For example, I'm fortunate to have a president who encourages ongoing interaction with the board, since it is difficult to really get to know members if you only spend time with them at board meetings. At the same time, I work hard to be appropriately involved in the CBO/board relationship. If I'm having lunch with a board member, it's OK to be more casual and to talk about life in general. But when I am discussing college business, I want to be sure I am fully focused on providing information that the board members need to fulfill their fiduciary responsibilities to the college.
The biggest challenge for me is finding the appropriate level of involvement for board members—helping them operate at the level of institutional governance without getting into the details. You have to draw clear guidelines and help educate board members about their role.
CBOs should also provide the right amount of information about higher education, in general, and about their specific institution. What you really want are board members who use their knowledge and skills to understand the challenges and opportunities for an institution on a broad level, while also looking to the future.
KANIA: Susan, you're a college board member yourself. What do you consider to be the marks of an effective CBO?
JOHNSTON: As a board member, I greatly value the chief business officers who have the ability to make clear complex ideas and information. These are CBOs who have a lot of data, but they know how to select the data that tell the most clear and compelling story about their institution's financial health and financial future.
When working with boards, chief business officers need to remember that many board members come from a business background, and not from higher education. Without the CBO's guidance, they might overlook something such as net tuition revenue and just focus on overall tuition revenue. Understanding the audience is critical to building a relationship with anyone on campus. Consider faculty members, for example: What do they know about the finances of the institution? What do they need to know? What do they want to know? What's the most useful story of the institution's finances that a CBO can provide?
The CBO Skill Set
JOHNSTON: From a skills standpoint, what do you think is necessary for CBOs now and in the near future?
KANIA: CBOs need to be skilled communicators and strategic thinkers who care about more than finance. We're the people who can work and partner with other campus leaders, including the president, to ensure that resources—which are admittedly tight—are properly aligned with the institution's mission and strategic vision.
At the same time, CBOs should acknowledge that we possess financial knowledge that other cabinet members, faculty members, and most people across campus don't have. That means we have to translate our knowledge into a language that people can actually understand. A CBO should want to help people on campus make informed and well-reasoned decisions, rather than being the person who squashes new initiatives or holds back knowledge.
Our role requires us to find a balance between supporting new programs and ongoing initiatives, such as providing fair pay to maintain top-notch faculty and staff. We must find ways to help people understand what drives the cost structure within a college or university while, at the same time, look at ways to tighten up expenses in certain areas. For example, we can identify how new initiatives might be funded by rebalancing current resources, rather than solely relying on funding from new revenues. And we need to make people aware of the fact that one single business model for higher education does not exist.
JOHNSTON: In other words, the chief business officer needs to ensure that he or she is a good strategic thought partner for the president and the rest of the cabinet. When you look at the changes in funding models for public higher education—think about the demographic shifts affecting both public and private colleges and universities—and consider affordability, the business models of our institutions become a big concern. NACUBO's Economic Models Project helps strengthen those models, but we need to apply additional power to this issue because it's not going away any time soon.
Frankly, the country needs our colleges and universities. Every time a single college closes, that's an opportunity that goes away from a community and from individuals.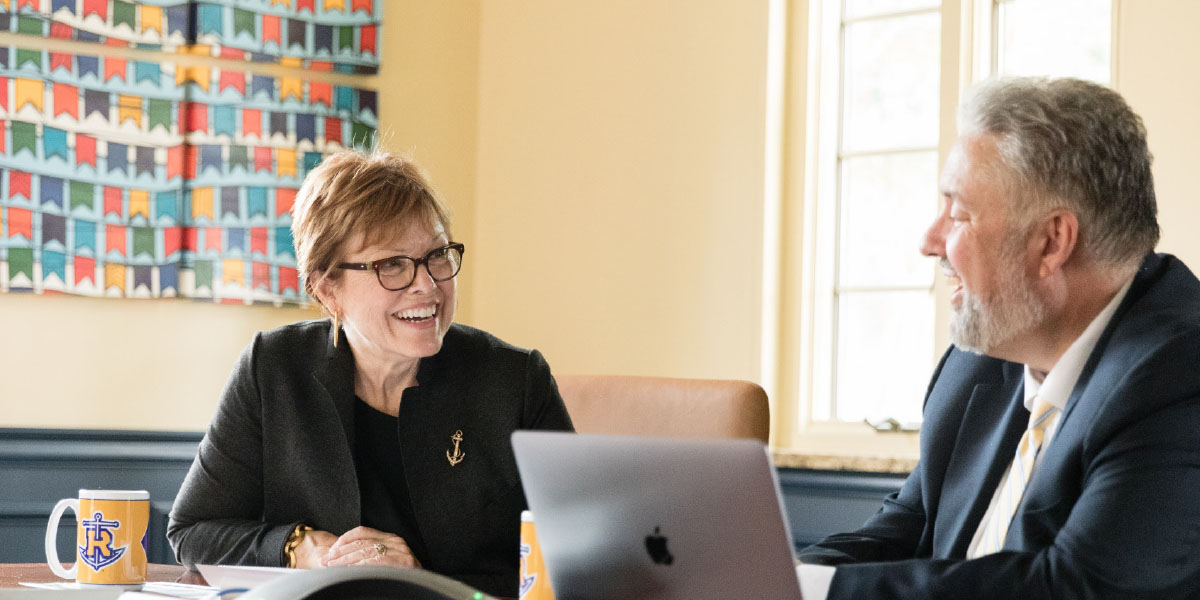 Preparing for Higher Ed Challenges
JOHNSTON: How has NACUBO helped you navigate the challenges of higher education?
KANIA: I've been attending NACUBO meetings and some of the regional meetings for many of my 28 years in higher education. Years ago, when I was a controller, I learned a lot about taxes through the NACUBO Tax Forum. When I needed to know more about endowments, I went to NACUBO's Endowment and Debt Management Forum. By attending annual meetings over the years, I have developed a core base of knowledge about higher education in general, while also learning about how other institutions do things.
In my last job at Davidson, when I interviewed for the CBO position, the biggest challenge I faced was having been at the institution for a while. What ideas would I have for changing things? How did I know if we were keeping up with other institutions? I cited my involvement with NACUBO—that I'm constantly learning from and networking with colleagues from other institutions. You can't find a better kind of consulting than from peers who understand the industry in the same way you do.
Right after my promotion to the CBO position at Davidson, I attended NACUBO's program for new chief business officers. It was so helpful to be around people who understand the challenges and difficulties of the work you do every day. That's the kind of network you develop through NACUBO. And I rely on NACUBO as the source for timely and accurate information about higher education, particularly when the president calls and wants to know what's happening with a certain issue. The NACUBO staff provides unbiased information that enables CBOs to run colleges in the best ways possible.
KANIA: What trends have emerged in higher education that are of the greatest concern to you? How will NACUBO help members navigate these challenges?
JOHNSTON: One trend that rises to the top of my list is the lack of trust in higher education—something I never thought I'd experience. These days, we hear a lot about the declining trust in higher education among both the general public and policymakers. They don't necessarily see higher education as contributing positively to our country, even though it's been proven that educated individuals have better lives, are healthier, contribute to the financial well-being of their communities, and are more engaged citizens.
When people start raising a lot of questions about the value of higher education, that's a troubling place for us to be. NACUBO will continue to advocate on behalf of higher education, talking about the value that higher education provides to individuals, to the general public, and to the country at large. We'll continue talking about the value, writing about it, and posting useful information on our website.
There's a need for innovation within higher education, not just so colleges can sustain themselves financially, but also so they can effectively serve the students who want to benefit from an education. Chief business officers make that opportunity for students possible, by reallocating or finding the resources to fund the programs most needed in a community.
PREETI VASISHTHA is editor in chief, Business Officer.
Credit: Scott Cook, Rollins College
Credit: Scott Cook, Rollins College