Idea in Brief
Real and lasting environmental progress will require close alignment of an institution's sustainability agenda with its central mission.
That mission must include equipping students to lead in a future where complex environmental, social, and human health issues need new, groundbreaking expertise.
The demands and interests of students and stakeholders are converging with research and technological capabilities to make this decade ripe for sustainability innovation.
Cross-sector partnerships are essential for expanding knowledge, capacity, and reach.
To be most effective, sustainability goals must embrace a broad agenda and consider diverse constituencies.
---
"Education's mission is to prepare people to live in the world—both the world of today and the world they will inherit and shape," says Gil Philip Friend. He is the founder, chair, and CEO of Natural Logic Inc., which helps companies design, implement, and measure profitable sustainability strategies. "But we are living in a time of enormous tumult where all the chairs are loose on the deck. Economic turmoil, technological change, and cultural disruption—these are challenges today's students were already facing [before COVID-19]," Friend says.
"Now, in light of the reality—not a potential scenario—of a worldwide pandemic that will reshape many of our social and economic norms, our education institutions must prepare students to engage in hard questions about equity, community, and livability," Friend says. "And, they must prepare students to live and lead in the face of profound uncertainty. This is true whether those students are engineers, business majors, policy planners, social scientists, and even writers, poets, and artists, because in fact, these concerns touch every profession in every sector from multiple dimensions."
"To me, the big challenge of sustainability leadership is being responsive," says Tony Frank, chancellor of the Colorado State University System. During his tenure as president of Colorado State University, Fort Collins, 2008–19, the land-grant university became the first higher education institution to receive the Association for the Advancement of Sustainability in Higher Education's highest rating of STARS Platinum for its comprehensive sustainability efforts across academics, engagement, operations, and leadership. "I am a big believer that the role for leadership is to put a stake in the ground for what you want to accomplish," Frank says. That itself can be galvanizing, he adds.
"In my case, I didn't have to work very hard to do that. I was in the lucky position where I brought together groups already deeply engaged in identifying priorities and solutions. We set up a president's sustainability commission—essentially independent bodies operating as the conscience of the institution," Frank says. "We opened a conversation on campus for identifying possibilities, and I was blown away by the ideas and the passion that came from students and younger staff members in particular—ideas for mass transit, housing, dining, recycling, facilities, and geothermal energy."
Before he knew it, a near majority of the campus was involved in a conversation about the sustainability leadership role of the campus, Frank says. "My role as president was to plant that stake in the ground, bring people and resources together, then stay out of the way." He suggests that leaders should rethink how to harness the energy, enthusiasm, and expertise of individuals throughout their organizations. To be most effective, they must also pursue strong partnerships across sectors and within their communities. (Read also "Force Multipliers.")
The "We" in Team
Individual colleges, universities, and the higher education sector as a whole have for decades been leaders in the sustainability space, with campuses serving as laboratories—metaphorically and at times literally—to test everything from anaerobic digestion to energy storage and smart grid technology.
In recent years, more municipalities have begun taking charge of making their cities livable for all residents and positioning their local businesses to thrive in a new, green economy. Given the rise in global consciousness regarding the direct and indirect threats of climate change to daily lives and livelihoods, a growing number of corporations are lending their expertise to addressing pressing environmental and social challenges.
Today's urgent sustainability issues include how to ratchet up leadership efforts to catalyze available brainpower and a collective will for change, and how to invent scalable solutions to address common global, existential threats. Three ways to get started are:
Find a way to articulate sustainability as central to institutional mission.
Apply the advanced knowledge and sophisticated tools available to significantly move the needle.
Exponentially increase your impact through collaboration with like-minded partners.
Let's Be Clear
The evolution of sustainability in business over the past 20 years can be characterized as increasing focus on tying sustainability more directly to financial performance and weaving sustainability concerns into the heart of the organization, rather than being simply a "nice-to-have" add-on, Friend says. "That remains a huge challenge, since measures of real value and of true risk are not always reflected on the balance sheet. Our economic tools are often deficient, in part because they don't adequately account for the cost of inaction."
Organizations that view sustainability as a fundamental business issue look beyond questions of how activity affects profit or brand image to considering shared value and risk, Friend says. His experience with creating and implementing comprehensive sustainability strategies includes guiding some of the world's largest companies and serving as the first chief sustainability officer of Palo Alto, Calif., 2013–18, where he helped shape that city's aggressive climate action plan.
Today, Friend advises companies, cities, executives, and investors on ways to build economic advantage by making sustainability a central strategic focus. "Many of our clients are 'What now?' companies—well down the road of setting goals and making good progress, and far enough along to realize that something substantial is still missing," says Friend. "They come to us to up-level their impact."
Sustainability or Bust
In Friend's experience, there are two important levers for innovation:
"We hear all the time that something can't be done, until you can point to where it has been done," Friend says. One case in point is California, the fifth largest economy in the world, where new buildings are legally required to be "net-zero energy," producing as much energy as they consume. "In fact, while other jurisdictions still debate whether net-zero is even possible, here it's the default; and now the focus here, as elsewhere, is not only achieving net-zero but designing buildings that can generate more energy than they use," says Friend.
"Don't underestimate the power of comparative benchmarking to feed the spirit of innovation," says Friend. The desire to do something better than someone else provides an informal but effective incentive system. "We see this all the time on campuses between dorms that are competing to reduce energy or water consumption, or among peer institutions racing to achieve carbon neutrality or net-zero waste."
Both of these levers are crucial not only to feed a spirit of invention but also to create a sense of urgency to make real progress, Friend says.
The Urgency of Now
In November 2020, there will be 4 million new eligible voters in the United States; those young people who are turning 18 have grown up in a world very different from the one previous generations have faced, and they are starting their professional lives with consequences of inaction from those previous generations, Friend says. "Some of these young people might be impatient, some might be angry, but many want to roll up their sleeves and do something. A good number of them will be seeking an education to enter the world of policy or finance or engineering to make their impact." That suggests a crucial role for higher education, Friend notes.
"We live in a culture that tends to break things into component pieces, but our biggest challenges connect across multiple dimensions and require responses that are much more nuanced and complex than how we have been trained to solve problems during the past 100 years," Friend says. "The mission of any educational institution is to open another perspective in this conversation." And, no one should underestimate the level of desire for change from this upcoming generation. "Consider that 10 years ago, the huge student-led movement toward fossil fuel divestment was hardly on any investor's radar."
Frank concurs; he believes both current and future students are going to have a fundamentally different outlook on sustainability from their parents and grandparents. For starters, a high percentage of today's students list the sustainability profile of an institution as either important or extremely important. "For young people today, sustainability isn't [just] about the fuel efficiency of a vehicle. It is an existential crisis."
The silver lining, suggests Frank, is that if you go back to what higher education institutions individually and collectively as a sector exist to do—education, research, and community engagement—each of those things can easily wrap around sustainability activities. "Today's students expect those to be intertwined," he says.
Spend Now to Save the Planet
Where that student passion bumps up against the fiduciary obligations of an institution can get interesting, suggests Frank. "When I have discussions with today's students about the financial trade-offs of the next ambitious sustainability initiative under consideration, they do that thing where they tilt their head to the side. They know you're saying something, but it doesn't quite register," he says.
"The concept of monetizing something that they don't view through a monetary lens seems bizarre. For many of them, there is no price to put on sustainability activity when it's about the future of the planet where we all must live." And, the reality is that many of these initiatives do wind up making economic as well as environmental sense for an institution, Frank says. "Doing the right thing at times can also save money. We just have to do the due diligence for our organizations."
Frank believes that many institutions have already reached the tipping point where students and other stakeholders do not hesitate to voice objections over spending priorities that appear to them as incompatible with a sustainable future. "I would say that for most college and university presidents today, if you aren't making strides through your financial commitments to move in these directions, you will soon find yourself swimming against the tide."
Broaden Your Ambitions
One significant shift in sustainability perspectives over the past decade has been a more intentional effort to form connections across a much broader array of concerns and activities, Friend says. As one example, the United Nations Sustainable Development Goals have become a guide for many large corporations—as well as increasingly more higher education institutions—that are trying to articulate sustainability in ways that resonate with more stakeholders.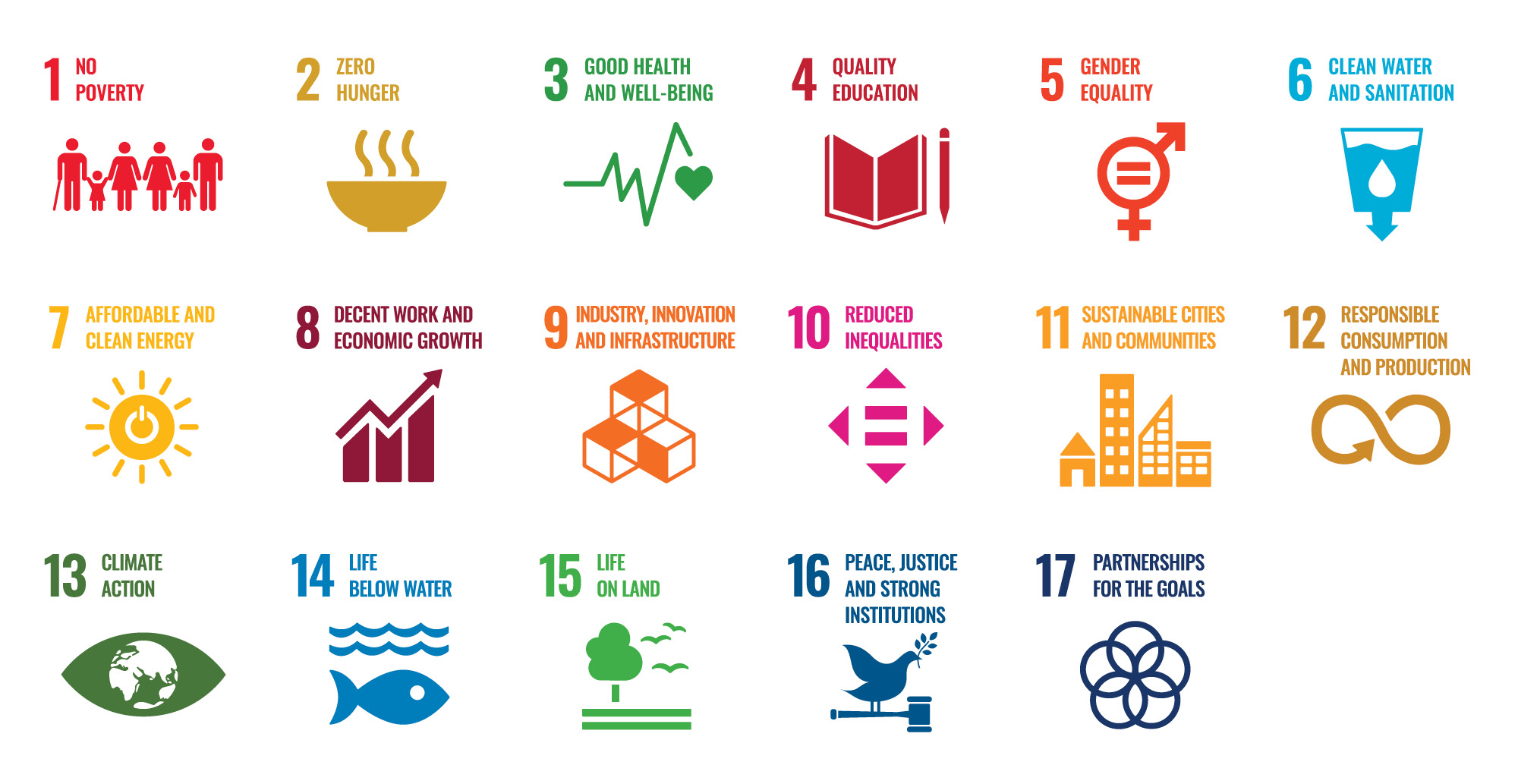 Get going. Friend believes the SDGs provide a useful framework for three reasons:
They are comprehensive in nature—spanning social, environmental, economic, and human rights concerns.
They have achieved massive buy-in throughout the world, with endorsement by all 193 U.N. member states.
They provide a critical level of aspiration.
"They don't say reduce poverty and hunger, but no poverty and zero hunger. These goals are not about how to make things gradually less bad or phase them out over time," Friend says. "Simply framing the goals in this way invites a new way of thinking and engenders a different level of innovation and urgency."
Find your fit. The challenge is that there are 17 goals, with well over 100 sublevel goals, Friend says. "That's a lot to take on." Thus, most companies or organizations orient toward the goals they deem most important. "Dismissing the goals because you feel you can't achieve them all misses the potential to take your own plans and cross-reference them to see where your organization can have greatest impact." The same can be said for other frameworks like the Future-Fit Business Benchmark, the LEED rating system, and the Passive House Institute framework, Friend says. "There are lots of tools available that allow an organization to find the best cultural fit for what is most important to measure."
A Role for Everyone
During employee onboarding at Central College in Pella, Iowa, Brian Campbell, director of sustainability education, provides an overview of the institution's sustainability priorities and the ways in which employees can participate in campus initiatives. He typically introduces the concept of sustainability by referencing the United Nations SDGs. "These are broad enough in scope that all employees can find some connection to the topic. What they quickly notice is that this isn't only about recycling. There is real breadth to these goals—encompassing social aspects like gender equality—and real ambition," Campbell says.
Connect the dots. Using the SDGs provides a framework to talk about how sustainability bridges these interconnected challenges we face as a planet, adds Campbell. "I try to put this in the context of our mission as a college to educate students and prepare them to help solve these kinds of problems. This includes not only how we teach in the classroom but the whole of operations and student experience." Campbell also talks about how all employees have a role to play. "Our primary goal is to help new employees see how their work fits into our larger mission of sustainability, regardless of their specific job or department."
Make it personal. Campbell's presentation likewise includes information about how employees can take advantage of the college's bike-share program, along with other opportunities developed as part of a first-year course for students centered around holistic wellness. This includes enjoying the labyrinth mowed into the native prairie landscape, which provides an opportunity to decompress, Campbell says. "Encouraging employees to enjoy locally sourced foods in the dining hall or to walk through the labyrinth after work further connects the broader focus of sustainability to our own human health."
Lead by Example
From his many years of experience working collaboratively across sectors, Friend has observed what he considers core sustainability leadership requirements.
Be transformative. Sustainability leadership must push the boundaries, Friend says. "What some currently call radical ideas will be mere table stakes in the next decade—what you need to do to even be in the game." He predicts substantive movement from recycling to a circular economy as well as other transformative economic transitions, including a price on carbon. Likewise, as the climate crisis heats up, the political landscape will shake up, suggests Friend. To bring about truly sustainable transformations, higher education will need to advocate for altering the systems and policy obstacles that pose barriers to change.
Be accountable. There is a growing expectation from internal and external stakeholders alike for companies and organizations to walk their talk consistently across the board, notes Friend. "Companies will no longer be able to talk out of both sides of their mouths, promoting their sustainability achievements while lobbying for energy policies harmful to the environment and future generations."
Be inclusive. "The most effective initiatives include everyone early in the process and put everything on the table. And, we must speak to real concerns," Friend says. You can't talk meaningfully about transportation within a city without talking about housing, health, or economic inclusion, he asserts. "Approaching sustainability as a business strategy in a way that is not only economically sensible but also socially valuable provides a critical on-ramp for everyone. That's sustainability leadership."
KARLA HIGNITE, Fort Walton Beach, Fla., is a contributing editor for Business Officer.