Expediting Aid to Students
As many as three million students drop out of college each year because of financial constraints. Up to 40 percent of low-income students who are accepted to college don't attend because of overwhelming financial aid paperwork and concerns about paying tuition bills. Those were among the statistics cited by CampusLogic CEO Gregg Scoresby during the session "Opportunity Melt: Higher Education's Leaky Pipeline."
The session focused on how Georgia State University, Atlanta, is prioritizing its focus on students' financial ability to pay for college. This session was one of several that showcased how institutions are undertaking necessary transformations to strategically position themselves in the dynamic higher education environment, which is one of NACUBO's five strategic priorities.
Scoresby's co-presenter, James Blackburn, associate vice president of student financial services at Georgia State University, can attest to those lost opportunities for students. Of the roughly 54,000 students attending the urban research university in the heart of Atlanta, previously as many as 4,500 students might have dropped out during the course of a term—many for financial reasons, said Blackburn. Institutions are subsequently impacted because declining enrollments are among the biggest risks to an institution's budget, noted Blackburn.
While discussions about student success most often bring to mind academic success, with so many dropping out or not even starting college because of financial concerns, higher education leaders have to begin to consider a student's financial capacity as part of his or her overall success, said Scoresby. "If we want students to succeed, we have to prioritize a focus on their financial ability to pay for college."
Blackburn noted some of the ways Georgia State is doing just that:
Deconstruct your process. When Blackburn first came to Georgia State, his top priority was to identify and remove the barriers keeping students from moving through the financial aid process in a timely manner. His office set out to essentially deconstruct its existing process. While Blackburn's team spent several months looking for a smoking gun, in reality there wasn't one single thing team members could fix that would suddenly change the unwanted outcomes. One clear problem they did notice was the holdup of FAFSA application completions when they looked at term-over-term persistence levels among both incoming and continuing students.
Digging deeper they found that, year-over-year, those who completed the FAFSA on time were persisting at a rate of 84 percent compared to only 40 percent for those who did not complete their FAFSA on time. Another leak in the pipeline: Too many students were withdrawing at the end of the drop/add period because they could not make their payments.
The initiative Blackburn's office launched to increase student engagement and financial aid access began with three priorities: (1) expedite completion of FAFSA applications to increase the rate of those filing on time; (2) identify how best to guide students through each step in the financial aid process; and (3) simplify the entire process for students.
To expedite FAFSA completion, Georgia State first had to determine why so many students weren't complying with the deadlines, thus missing out on aid. They set up a system to measure and monitor student progression through the packaging cycle and designed a campaign to better engage students in the process. They also scrutinized internal workflows to determine what changes they could make to get aid awards in the hands of students more quickly.
Enhance tools and workflows. Georgia State took several actions to increase financial aid awards:
Created a comic book-style guide to walk students through the FAFSA application.
Redesigned its website to eliminate legalese and created a student-driven portal.
Incorporated chat bots and targeted text-messaging alerts as part of its outreach efforts to nudge students at crucial points on specific actions they still needed to take.
Eliminated the requirement that students pay 50 percent down by the drop/add deadline, focusing instead on putting students on a manageable payment plan.
Streamlined internal processes to award financial aid to students within three days of registration, down from 18 days.
While Georgia State is still in the early stages of assessing the full impact of these and other changes, it has seen financial aid awards increase by about 28 percent, along with a significant reduction in payment balances, said Blackburn. And, getting aid into the hands of students much earlier means counselors can better use their time with students. Counselors can now provide help on specific issues instead of having conversations about missing paperwork, said Blackburn. He stressed that these improvements have come as a result of changes the university made to its process, not by asking students to do anything differently.
Very often, the biggest challenge for students is navigating the financial aid process, said Blackburn. What is true for Georgia State is likely true for most—that many students don't understand or keep track of the next step in the financial aid process. Ensuring students are aware of next steps is vital.
View it through a student's eyes. Instead of trying to perfect a broken process all at once, start by mapping your processes from start to finish. Then walk through each process from the student's perspective to assess whether it is as easy and seamless as possible. Where you find bottlenecks, ask the question: If I were a student, would I put up with this?
Foremost, Blackburn and his staff wanted to mitigate students running out of financial aid, taking too long to graduate, or overborrowing. Students also need more education around student loans, since many students don't understand the terms of borrowing and may end up borrowing more than they need, said Blackburn. Helping students understand all the avenues of aid available to them can go a long way in keeping students progressing through school without undue financial stress.
KARLA HIGNITE, Fort Walton Beach, Fla., is a contributing editor for Business Officer.
Where's My Data?
Data governance has a critical role to play in facilitating the use of data and analytics as institutional assets. In the session "Dude, Where's My Data? Leveraging Data Governance to Improve Data Analytics," presenters August Freda, campus data steward, University of Notre Dame, Notre Dame, Ind.; Rachel Serrano, director of enterprise reporting and analytics, the University of North Carolina at Chapel Hill; and Joanna Grama, senior consultant, Vantage Technology Consulting Group, provided some examples of how data governance was an essential aspect of bringing about change, improving performance, and supporting their own campuses as they worked toward their strategic goals.
This session was one of several that highlighted how higher education is integrating analytics to achieve institutional strategic goals, one of NACUBO's five strategic priorities.
Data governance provides a "framework for contributing to decision making regarding policies, processes, and priorities for institutional data assets." This framework is important because it helps support campuswide collaboration when coordinating and curating data, using data and analytics, and strategizing about how to address any challenges and opportunities related to data. A data governance policy will clearly define the roles and responsibilities of various campus stakeholders—establishing authority from data producers to data stewards to data users.
The presenters cited research from EDUCAUSE's ECAR Analytics Maturity Index for Higher Education, which showed that maturity, as it relates to data governance policies and practices at higher education institutions, is lacking in some key areas. In interpreting the data, presenters noted that such areas for improvement broadly included using data for decisions, providing analytics training, and considering data access policies.
When discussing the University of North Carolina at Chapel Hill's data governance journey, Serrano highlighted the importance of coordination and collaboration. UNC–Chapel Hill is a decentralized institution, but its data governance is operated centrally by the chief IT officer. This mix of centralized campuswide data governance with a generally decentralized campus makes it challenging to maintain consistent data policies. This dynamic has required staff, and in particular the CIO, to be especially collaborative in working across campus to ensure data processes and procedures are effective.
The University of Notre Dame, by comparison, has a centralized organizational structure, and its data governance is also housed and operated centrally by its IT department. Freda noted that, in order to ensure that data can serve as change catalysts for strategic goals, data governance at Notre Dame is "top-down driven and grassroots executed." By viewing data governance as a "change agent," more data are made usable to more stakeholders across campus. Getting to this point required cross-campus engagement, including various stakeholders being involved in creating data definitions, developing policies, and supporting a data-informed culture.
LINDSAY WAYT is director, analytics, NACUBO.
The Need for Advocacy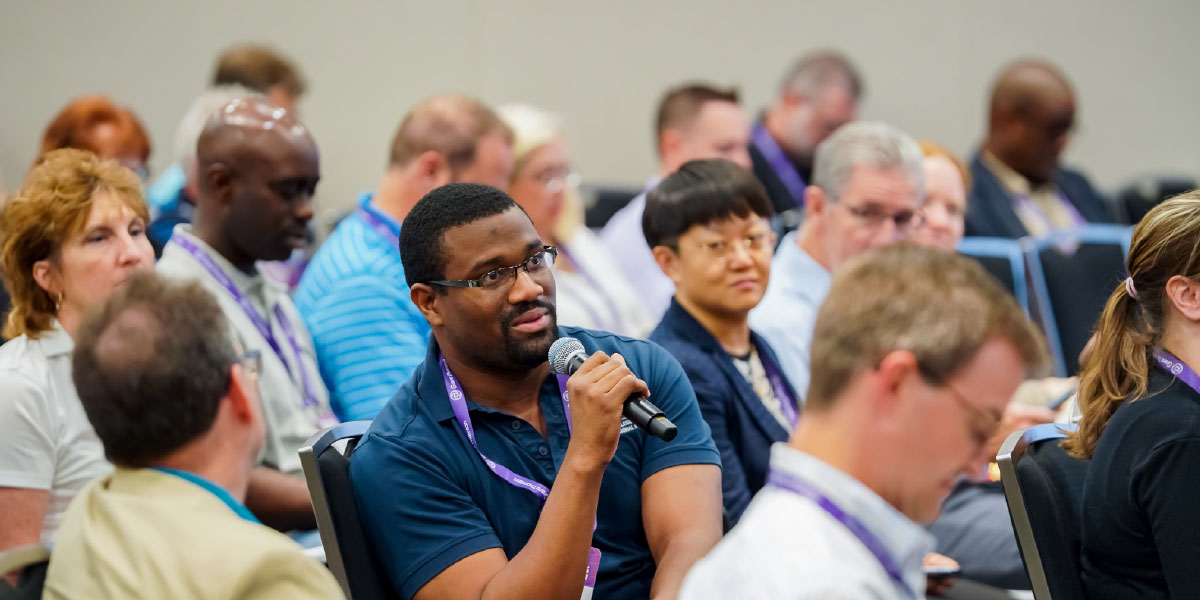 NACUBO has been hard at work increasing its proactive advocacy, a strategic priority for the association. While committed to advocacy work on behalf of its members, NACUBO has also been bringing attention to the need for business officers themselves to be proactive in communicating the value of higher education to the public and in standing up for business office concerns that enable colleges and universities to deliver on their value proposition.
"NACUBO will continue to equip you—vice presidents, vice chancellors, AVPs, bursars, tax directors, controllers—to tell the stories of how your institutions are helping students enroll and succeed and what your students are accomplishing," NACUBO President and CEO Susan Whealler Johnston told annual meeting attendees. "Throughout the next few days together, I hope we'll be inspired by events, and people, and sessions that offer new ideas and new ways of thinking," she continued, "and I hope we'll engage with each other on the big issues and become emboldened to stretch toward solutions that seem just beyond our reach."
Several sessions during the annual meeting highlighted the necessity of finding strategies to counter the negative discourse surrounding the value of higher education, promote its myriad benefits, and shape public opinion toward a more positive perception of higher education's contribution.
Immigration and Cybersecurity
During the session, "Legal Update: Immigration and Data Privacy/Cybersecurity," moderator Craig Alexander, director of legal resources, National Association of College and University Attorneys; and panelists Leigh Cole, chair, immigration group, Dinse P.C. and immigration counsel, Hirschfeld Kraemer LLP; and Christopher Melcher, vice president of legal affairs and general counsel, Augusta University, Augusta, Ga., explored current developments in federal immigration law affecting colleges and universities, as well as data privacy and cybersecurity.
Cole explained how the Trump administration's move to reduce the number of individuals entering the country with H-1B visas (affecting graduate-level faculty and staff) and J-1 visas (affecting work- and study-based exchange/research and teaching) is impacting the ability of institutions to attract international faculty and staff.
The areas that have been most affected by the new restrictions are the hiring of financial analysts and managers, as well as staff working in international admissions, student affairs, and residential life. New restrictions placed on J-1 visas are creating more demand for H-1B visas, which cost more than J-1 visas, and H-1B visa applications are coming under strict review and have become much more difficult to obtain and tougher to renew. Overall, Cole reported that for colleges and universities, the cost and administrative burden of immigration approvals and compliance is higher than ever.
After reviewing key laws and regulations governing campus data protection and privacy (FERPA, HIPAA, and the Safeguards Rule of the Gramm-Leach-Bliley Act), Melcher shared a compliance checklist to address data management and security of data related to sponsored research. Melcher also reviewed the requirements of the EU General Data Protection Regulation (GDPR), highlighting recent enforcement actions, and then presented a summary of the laws governing data privacy, best practices for data privacy protection, the key elements of privacy management, and tools for managing security risk.
NACUBO's advocacy team has been following these issues closely. In the Lab, an engagement and learning space in the meeting Expo Hall, Megan Schneider, NACUBO senior director, government affairs, provided a "Hot Take from Washington" on the new Department of Education's Office of Federal Student Aid audit objective that checks institutional compliance with the Safeguards Rule.
HEA Reauthorization Chances Are Slim
Schneider was also a part of the NACUBO Washington Update, focused on "Advocating for the Mission and the Bottom Line," along with Liz Clark, vice president, policy and research, and Bryan Dickson, assistant director, advocacy and student financial services.
The NACUBO team discussed the diminishing likelihood of seeing a Higher Education Act (HEA) reauthorization this year and offered observations and analyses of major legislative and regulatory changes, exploring both the challenges and opportunities ahead.
As policymakers have debated HEA reauthorization, some have expressed a desire to ask colleges to put more "skin in the game" and demand accountability. Clark shared a "Hot Take" in the Lab, looking at the potential impacts these proposals could have on colleges and universities. Ultimately, the developing popularity of this type of policy on Capitol Hill is forcing business officers to make the case that new laws and regulations should neither make it costlier for an institution to provide a quality education nor create a disincentive for institutions to expand access to high-risk student populations.
Clark also contributed to the session "Tax Update: The New Higher Ed Landscape Post-Reform," together with C. Aaron LeMay, vice president, financial accounting and reporting, University of Texas Medical Branch, Galveston, and Julia Shanahan, executive director, tax, Columbia University, New York City. Now that institutions are more than a year into implementation of the Tax Cuts and Jobs Act of 2017, they shared compliance approaches to many aspects of the new law. LeMay and Shanahan shared tax-planning strategies for covering the costs and administering the payment of new tax bills, while Clark urged attendees to take action, particularly on the new tax on employer-provided transportation fringe benefits.
#parktheparkingtax
In light of the significant economic impacts this tax has on colleges and universities across the country, NACUBO has been promoting advocacy efforts to support its repeal. The association recently launched an interactive advocacy campaign that makes it easy for individuals and organizations to connect with their lawmakers via e-mail or Twitter and express support for repeal of the tax.
To engage with the campaign on your mobile phone, simply text "UBIT" to 52886 to receive a link. Alternatively, supporters of the effort can use the campaign hashtag #parktheparkingtax to express support for a parking tax repeal on social media.
Each of these advocacy sessions, and others, included direct calls to NACUBO members and business partners to lead conversations about the current state of higher education and to use the new, free data visualizations available on NACUBO's website at www.nacubo.org/advocacy/annual-letter.
In the closing general session, Lynn V. Valenter, vice chancellor for finance and operations, Washington State University Vancouver and NACUBO board chair, stressed the need for business officers to make advocacy a part of their job responsibilities, noting that she has made insightful and powerful use of the slides. In her closing remarks, Johnston added that Valenter's "call to action is one we must all consider seriously."
LIZ CLARK is vice president, policy and research, NACUBO.
Finance for Freshmen (and Beyond)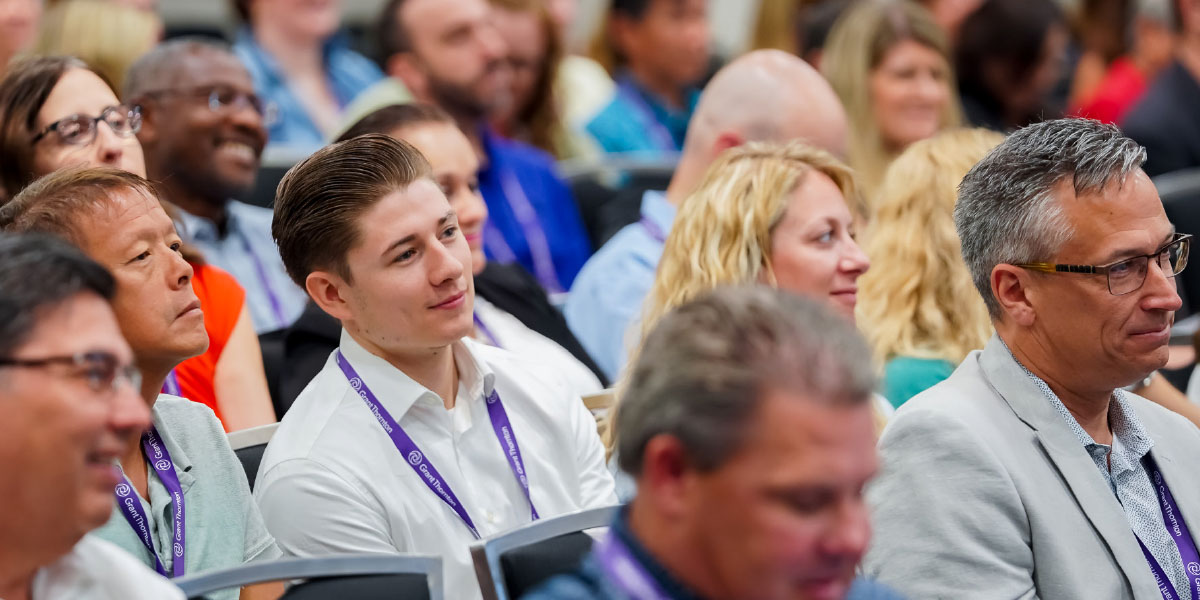 If you need a compelling reason to show why it's important to support student financial literacy, this is it, said Doug Schantz, director of the office of student financial services at Wittenberg University, Springfield, Ohio: "Financially prepared students equal happy students. Happy students equal retained students. Retained students equal graduated students."
In the session "Developing Financial Literacy Resources for Students From the Bottom Up," presenters Schantz and Erika Topete, associate director of student financial services at Stanford University, Stanford, Calif., shared ideas for how institutions can better equip students to make informed financial decisions while in college and after they graduate. Both agreed that, while it doesn't require significant financial resources to launch a program, pulling in expertise from offices across your campus can help you build a more robust program. For instance, Stanford has assembled a leadership advisory group of more than 20 university leaders, along with a student council, to offer input and assistance.
This session was one of several that showcased how institutions are driving effective solutions in higher education, one of NACUBO's five strategic priorities.
Mind Over Money
Stanford's "Mind Over Money" program, offered through the university's student affairs office, incorporates financial literacy coursework, one-on-one coaching, online resources, and events. All components encourage financially healthy behavior by helping students build financial skills and aptitude.
The financial coaching pairs students with alumni who can offer perspectives and insights based on shared experiences, such as pairing a student athlete or international student with an alumni athlete or international student graduate. Alumni advisers don't offer investment advice, rather they provide tips and resources that have been helpful to them, noted Topete.
In addition, Stanford offers a series of credit and noncredit courses, including "Financial Wellness for a Healthy, Long Life," which covers financial concepts but also explores human behavioral factors related to spending and saving. Other courses include "Personal Finance for Engineers" and "Finance and Society for non-MBAs."
Some resources have been added based on student requests, said Topete. One example includes tips on apartment hunting. Ideally, resources should appeal to different levels of understanding, starting with very basic information, such as what to look for in a bank and the differences between a traditional savings bank and a credit union as well as online banking services, suggested Topete.
For many institutions, it may make sense to add a student financial literacy focus through an existing structure such as a wellness center, many of which are expanding to include a range of student services programming, added Topete. "It's no surprise that finances are a leading stress factor for students. Tying financial literacy to larger concepts of wellness makes good sense."
No matter where your institution's focus on student financial literacy resides, offering these services and resources can be part of a holistic college education that for many students may fill a gap in an important life skill that they didn't learn in high school, said Topete. To start the conversation, she suggested administrators check out the U.S. Financial Literacy and Education Commission's 2019 Best Practices for Financial Literacy and Education at Institutions of Higher Education.
Focus on Engagement
At Wittenberg University, the small sliver of time that Schantz can dedicate to student financial literacy is bolstered by the involvement of stakeholders from across campus. "This pushes us to figure out how to be creative," said Schantz. Here is his advice to other institutions looking to start a program:
Identify who you want to serve. In addition to current students, consider reaching out to prospective students and their parents. Alumni are another good audience, since graduates are faced with a wholly different set of real-world financial decisions.
Determine which resources to offer. Events, presentations, workshops, and courses are all worthwhile, but you have to know your audience and what the likelihood is that people will engage. Have faculty present an in-class session during the course of the semester, or work through your freshman success program to include information in the first-year seminar.
One area where Wittenberg has had success is through interactive games like its Financial Football video game, which tests an individual's money-management skills. Answering a series of financial questions allows players to advance and score touchdowns, explained Schantz. He also pointed to various web-based resources available for students and institution administrators. These include iGrad.com and CashCourse.org. Wittenberg uses a customized GradReady.com money-management website with tools on topics like paying for college, avoiding identity theft, building a budget, and managing student loan repayment.
Think through your communication channels. Recognize that most students don't read e-mails, said Schantz. Wittenberg has had some success with old-fashioned posters, flyers, and table tents—especially when including something catchy or clever such as a funny cat meme.
KARLA HIGNITE, Fort Walton Beach, Fla., is a contributing editor for Business Officer.
Effective Shared Governance
The rapid changes occurring in higher education call for effective university governance, with clear roles and responsibilities for campus leaders, transparency, strong lines of communication, and a mutual commitment to working together for the well-being of the entire institution.
In the session "More Effective Shared Governance: Strategies for Working with Your Board of Trustees," speakers from Texas Christian University, Fort Worth, provided the audience with multiple perspectives regarding the relationship between the board of trustees, the chancellor, and the chief business officer. Topics ranged from best practices in managing trustee and campus leadership relationships to the particular challenges the panelists have experienced in their respective roles. This session was one of several that highlighted the strategic leadership role of the CBO, one of NACUBO's five strategic priorities.
Brenda Cline, who has served as a TCU trustee for roughly 20 years, provided insight into the board's relationship with the chancellor, CBO, faculty, and campus community, and she offered some best practices for a successful board.
First, she noted the importance of process—that is, the importance for the board to go through its necessary processes and protocols before making decisions, despite the length of time between starting and arriving at a decision. Secondly, Cline suggested that balance was important. Specifically, she noted that board members need to be respectful of the chancellor and campus management team's time as it relates to nonurgent matters. Lastly, she mentioned that board members must remember their duty to the university, not only as it relates to their financial contributions and largess, but also at it relates to confidentiality and procedure. Board members must take their duties seriously.
TCU Chancellor Victor J. Boschini Jr. has served in his current position for 16 years. He described his experience with balancing the board's expectations of him and managing the day-to-day operations of the campus. For example, the board expected him to raise the university's profile to the national level and to focus most of his attention externally. Thus, as a major portion of his job, he raises funds and serves as a champion for the university to external communities and board members. Boschini noted the importance of having clear expectations from the board, as well as fostering relationships with board members to better understand how they envision the future of the university.
In addition to cultivating these relationships, Boschini emphasized the need for university presidents to be self-aware. For example, Boschini explained that he does not come from a financial background, and consequently relies heavily on the chief business officer to ensure that the institution maintains a firm financial footing. Teamwork has been paramount to his success as TCU chancellor.
Brian Gutierrez, TCU's vice chancellor, finance and administration, echoed many of the sentiments Cline and Boschini shared. Addressing business officers specifically, he underscored the need to cultivate and maintain strong relationships with the various chair persons that make up the board's committees. For example, Gutierrez recalled his own reluctance to reach out to the chairperson of the board's finance committee to seek his advice on a certain matter. However, after reaching out, he found that this person was delighted to receive his call and insisted that he call any time. Gutierrez encouraged business officers who have board responsibilities to do likewise.
STEFFON GRAY is assistant director, research and policy analysis, NACUBO.
Posters Highlight Campus Efficiencies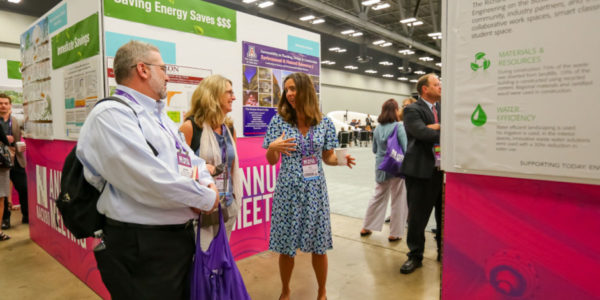 Forty posters highlighting a variety of campus efficiency accomplishments from small and large campuses, as well as two systems, were showcased at this year's annual meeting. Campus representatives were also present to answer questions from members prior to the general session on July 14.
The 2019 posters, as well as posters from 2014 to 2018, are available online at www.nacubo.org/campusposters. This website is a repository of higher education success stories with efficiency initiatives, such as carbon neutrality plans, composting, collaborations, budget processes, energy efficiency, science lab retrofits, energy savings contracts, water savings, and more.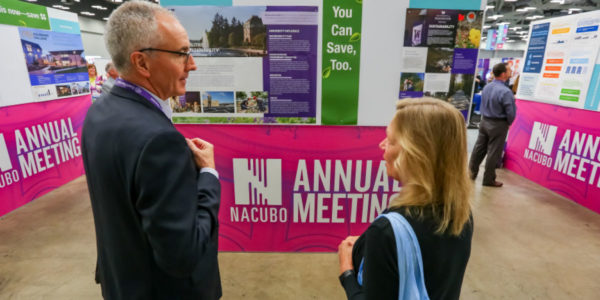 NACUBO members are encouraged to consider creating a poster for 2020. It might seem old-fashioned to create a simple 2D poster when electronic media is so prevalent, but gathering and graphically displaying these campus success stories has the potential for many positive outcomes. For instance, campuses frequently use these posters internally to inform students, staff, and the community about their accomplishments.
SALLY GRANS KORSH is senior advisor, facilities management and environmental policy, NACUBO.
Want More Annual Meeting Coverage?
Check out the opening event, impactful speakers, and photos from the NACUBO 2019 Annual Meeting.