"We know that if you're taking care of wellness and well-being, you're going to be successful in the classroom and in life," says Josh Downing, director, recreation and wellness, at Indianapolis-based Butler University. In 2006, Butler opened its Health and Recreation Complex, creating a single access point for recreation, wellness and health services, counseling, consultation, and health education. 
Co-locating all these services isn't only about attracting students and faculty; it also speaks to the core educational objectives of institutions and their growing focus on student success. Across the country, campuses are responding to the desire in their communities for improved general wellness by making real changes to infrastructure and space design. In some cases, this may include new building projects, but in many instances the process entails rethinking and retrofitting existing traditional recreation or athletics facilities. 
Consider that three decades ago racquetball was one of the most popular sports in the country. Many colleges and universities built racquetball courts to satisfy students and faculty interested in the fitness trend. In recent years, as interest in the sport has waned, many of those courts have been repurposed or converted for other uses. Texas Tech University, Lubbock, repurposed two racquetball courts into a 1,600-square-foot fitness training facility, and Oregon State University, Corvallis, converted some of its courts into lounge space.
The conversion of racquetball courts is only one example of how campus recreation facilities regularly evolve as the interests and needs of constituents change. "Institutions now have more of an eye toward flexible space, as the needs and wants of their communities change over time," says Pam Watts, CAE, executive director, NIRSA, formerly known as the National Intramural-Recreational Sports Association. According to NIRSA data, 61 percent of campus recreation facilities offer a student lounge area, 38 percent offer family or youth programs, 44 percent offer faculty and staff wellness programs, and 24 percent offer nutrition-education programs. 
If there is a clear trend in campus recreation spaces today, it is this: As new centers are built and existing ones are reimagined, institutions are increasingly broadening the focus of their recreation facilities, moving beyond physical activities to also include programming and services centered on whole health and wellness, as well as incorporating community and social spaces all into one location. Colleges and universities are succeeding in making their recreational facilities more collaborative, inclusive, flexible, and targeted to the whole health needs of users.
Include Total Well-Being
As campus facilities adopt a "whole health" focus, some are able to promote helpful collaboration by co-locating staff who are involved in various aspects of student health. For instance, at Butler, mental health counselors, nurses, and other health-care professionals are located in the same building as recreation and fitness. In addition to making the most of a new facility, adding health services and counseling to the recreation facility helps ensure privacy. "When a student walks in or out, nobody has an idea of where they're going or where they've been," Downing says. 
Co-locating the full spectrum of wellness programming can reduce the stigma some students may still feel in association with, for instance, seeking mental health and counseling services to help them address high levels of anxiety—which may include the financial stress more students are facing in relation to paying for college. This whole health focus simply makes sense, as the repercussions of unaddressed stress, for instance, can likewise affect physical health through loss of sleep or poor diet. 
California State University, Northridge (CSUN), opened its Oasis Wellness Center in September 2015 in an effort to complement the existing student recreation center, says Jimmy Francis, associate executive director of the university student union. While the recreation center delivers fitness and student life experiences on a bold and large scale, the Oasis seeks to complement it from an intimate and contemplative perspective. Regarding buy-in from leadership, Francis says, "This focus is directly in line with President Dianne F. Harrison's first presidential priority: an unrelenting focus on student success."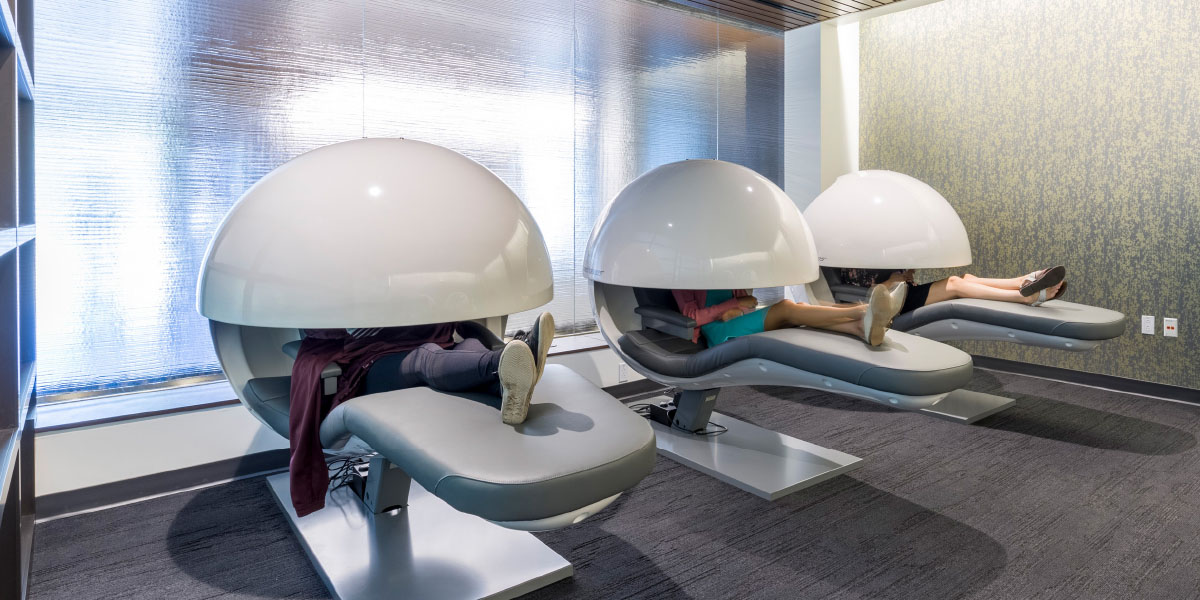 The university developed the idea for the Oasis after reviewing national research from the American College Health Association that showed stress and sleep difficulties as among the top health impediments negatively impacting academic performance. CSUN then conducted similar surveys with its own students and found that 31 percent of its students were impacted by stress, compared to 28 percent nationally; and 21 percent of students were affected by sleep deprivation, compared to 19 percent nationally. "The Oasis was built to be a learning laboratory where dedicated campus faculty and professional and clinical staff reach out to serve the needs of students and members of the campus community with sleep and stress," says Francis.
The Oasis has become widely popular on campus. The facility averages nearly 400 visitors on peak days during the week and typically logs more than 2,500 "nap pod" reservations per semester, offering a quiet space where students can recharge with a 45-minute power nap. It has hosted numerous workshops on topics such as mindfulness, yoga, art therapy, and meditation. "Response from students has been extremely positive," says Francis. "Their general consensus is: 'Where has this been? We needed this so much.'"
Boost Collaboration
CSUN's Oasis Wellness Center is an ideal example of far-flung departments working together to meet the need for well-being on campus. For instance, professionals from the student health center provide acupuncture services, University Counseling Services provides workshops, and the Institute for Community Health and Wellbeing and the department of art have joined the team to provide additional services and programs.
"Red tape has been cut, department territories have been set aside, silos torn down, and a passionate team has emerged," says Francis. "This dynamic blend of student affairs staff, academic affairs faculty, and other contributors across campus work together to improve the student experience and provide programs and services via this cutting-edge facility. We are working to emphasize the whole health philosophy by bringing together so many health- and wellness-related programs that were happening all over campus and centralizing them in one location."
Similarly, at the University of New Hampshire (UNH), Durham, the renovation and expansion of the Hamel Recreation Center includes dedicated space for health and wellness and draws students and faculty for a wide variety of activities. "This new space is used for meditation, nutrition counseling, small-group sessions, and walk-in hours for students to see a nurse," says Stacey Hall, director, campus recreation. 
This semester, the center started hosting "Walk & Talk," a weekly, informal gathering that allows students an opportunity to interact with a nutritionist, wellness coach, psychologist, and personal trainer. Each week, the group meets at the same location and walks around campus for about 30 minutes. The student participants determine the topics of conversation, says Hall. 
Incorporate Multiple Uses
At Bentley University, Waltham, Mass., the new Bentley Arena serves as home to the university's Division 1 hockey program, as well as club hockey, student recreational hockey, and skating. It also hosts an array of events such as university presidential inaugurations, comedy shows and concerts, a student-run fashion show, career fairs, and other large-scale programs for the benefit of campus and community groups.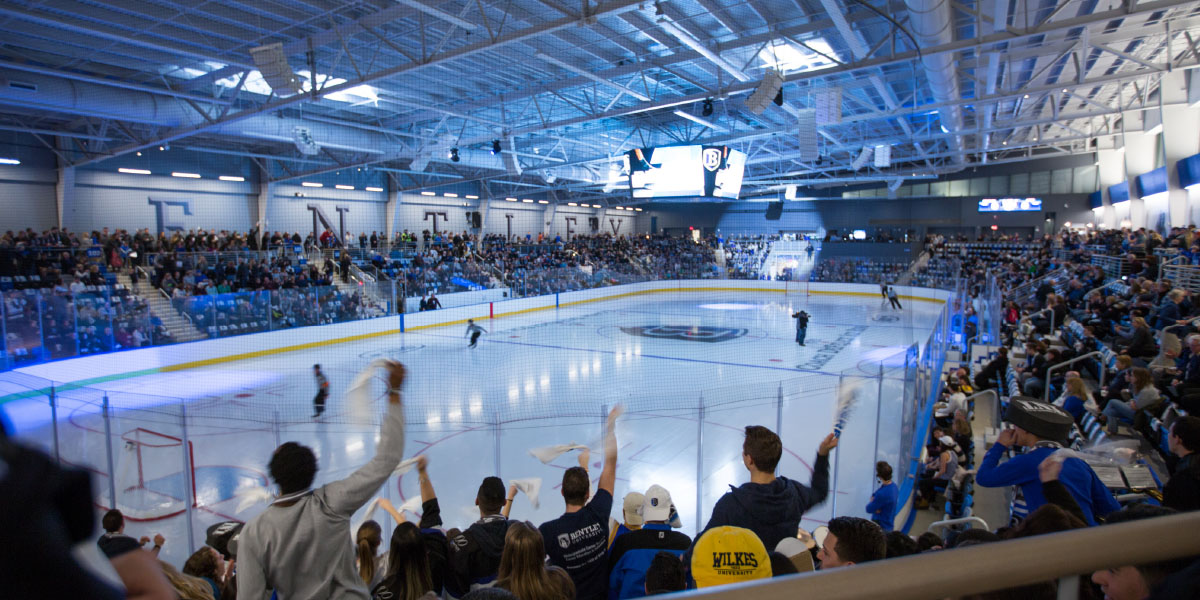 From the start, the university designed the building to be multipurpose and not solely an athletic building, says J. Andrew Shepardson, Bentley's vice president for student affairs and dean of students. To serve these multiple and diverse needs, the building allows direct access from the lobby to the ice (or floor when the ice is covered), integrated rigging that allows curtains to drape the space in different segments, and a sound system designed not only for hockey, but for a variety of events and space configurations.
As another example of multipurpose use, NHU's Hamel Recreation Center includes a demonstration kitchen and cooking classroom, which was funded jointly by the health and wellness department and the recreation department. Talking with other institutions that had recently constructed similar projects helped inform the university's decisions in order to maximize resources, Hall says. For instance, after other institutions advised NHU to avoid installing a divider wall between the demo kitchen and classroom, that idea—with its associated cost—was eliminated from the project.
In fact, a growing number of campus recreation spaces are incorporating kitchens for cooking classes. "More institutions are hiring staff dietitians to be available for students, as more people understand the link between food, exercise, and health," says Watts. "Many people aren't learning to cook as they grow up, so the ability to learn to cook is a need in society." For many students, learning how to prepare nutritionally sound meals on a limited budget can likewise really help them stretch food dollars and help alleviate food insecurity. 
Add Green Education
Constructing or renovating multipurpose facilities also offers institutions opportunities to implement sustainable building practices and demonstrate their commitment to the environment—something of increasing importance to today's students. For instance, the Bentley Arena was designed to LEED Platinum standards and ultimately became the first LEED Platinum-certified stand-alone ice arena in the country. As a result, "the building offers myriad 'living lab' opportunities for Bentley students," Shepardson says. 
Sustainability, energy, and other natural sciences classes are taught in the arena, providing students the opportunity to learn about the environmental, social, and financial considerations of building a new energy-intensive building. For instance, students are able to access datasets of electricity production from the building's rooftop solar array to calculate greenhouse gas reductions and cost savings from this on-site renewable energy asset, notes Shepardson.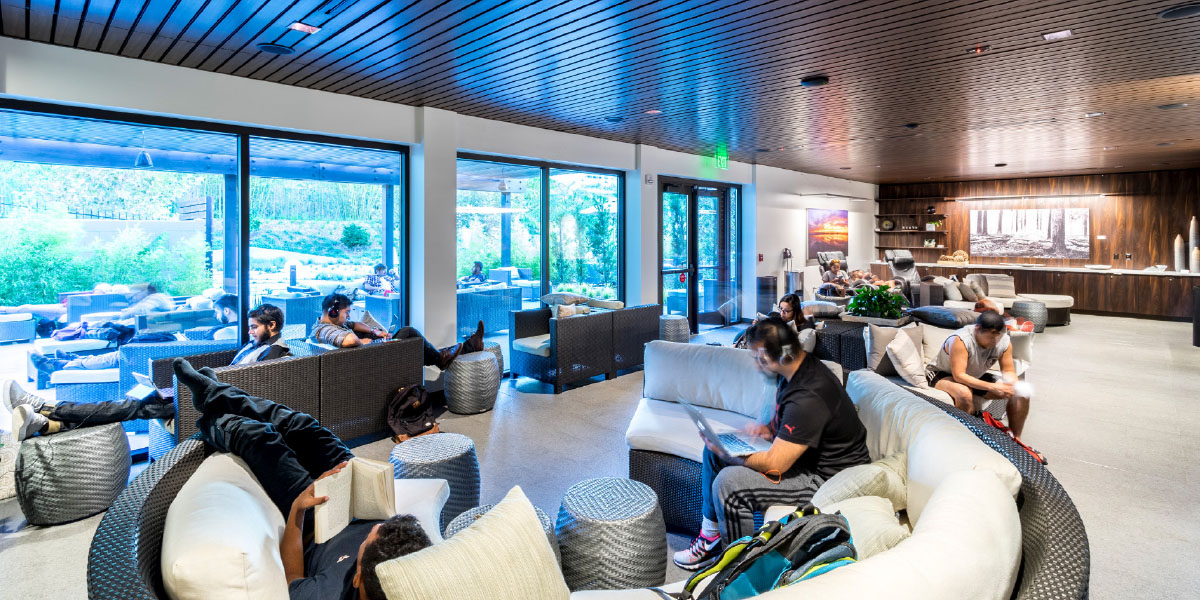 Manage Logistics
With many different groups and organizations using these new and renovated facilities, coordinating schedules and other logistics can be a challenge. Each year at CSUN's Oasis Wellness Center, all collaborators review and sign an operating agreement that details how the space will be shared and managed. The agreement, which outlines expectations for each party and who is responsible for what, "serves as the road map to operating the space," Francis says. "We do not experience any turf wars, because from the beginning we have been clear on who is responsible for what, and we try to be mindful of staying in our own lanes."
The university's student recreation center coordinates scheduling for the Oasis, but the operating agreement details which spaces are used by whom and when, to avoid "sticky" issues, Francis adds. The facility also keeps track of participation data to help drive decisions related to scheduling and rotates use to make sure spaces are equally shared. 
At UNH's Hamel Recreation Center, the campus recreation coordinator of facility scheduling maintains the schedule. Because health and wellness professionals typically don't have experience with such a responsibility, Hall says setting deadlines for each semester and holding in-person meetings to plan the upcoming semester can be helpful, allowing colleagues to talk through ideas and conflicts to minimize problematic issues.
While scheduling is the most challenging issue associated with a multipurpose facility like the Bentley Arena, "it goes hand in hand with the collaborative aspect of the building," Shepardson says. "In addition to being a community building, our goal is to generate some revenue to offset costs. To balance these, we set our priorities ahead of time. We know in-season games and practices need to be prioritized, and there are signature campus events, such as an inauguration, that may take precedence. Communication is key."
Spread the Word
College and university leaders can provide collaborative spaces for wellness, recreation, socialization, and other uses, but in order for those spaces to be effective, students and other members of campus communities must actually use them—and that means they have to know about them. 
To get the word out, marketing elements—such as selecting the right terminology, images, colors, and textures in promotion materials and the facilities themselves—are important. "For example, avoid using [a lot of] beige, which is challenging for some veterans who have served in desert locations," Hall says. In the health and wellness office suite at Hamel Recreation Center, the floor surface, lighting, and decorations contribute to a relaxing environment.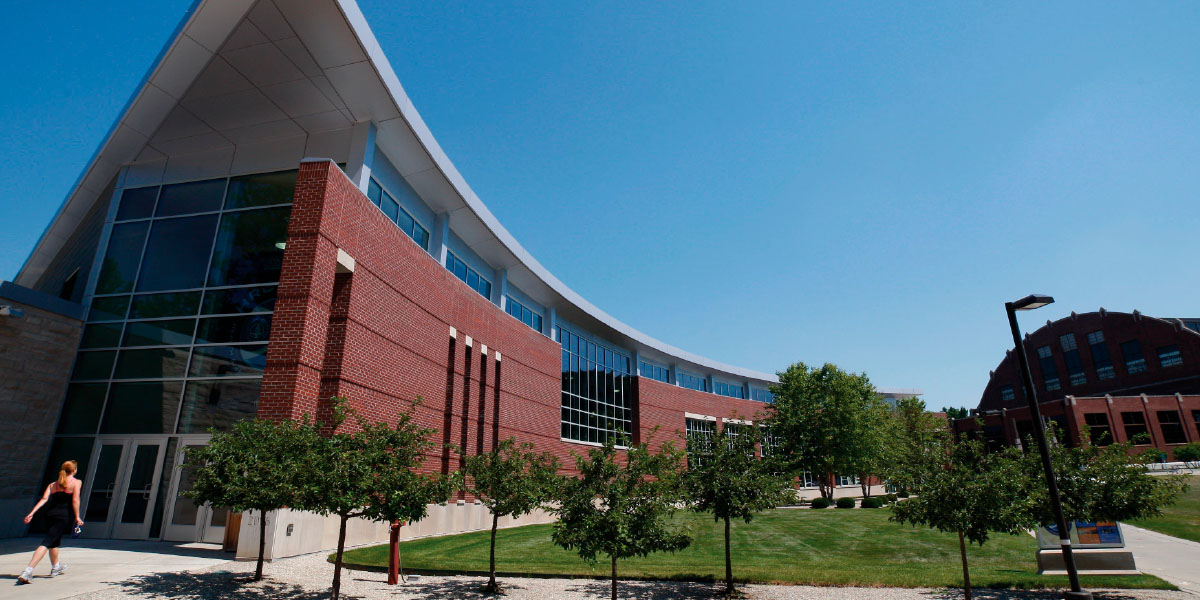 At Butler, the Health and Recreation Complex continues to experience increases in user volume every year, especially since the launch of BUBeWell, a comprehensive campus initiative that brings in stakeholders from across the university. An all-inclusive wellness marketing campaign for BUBeWell has been one effective method for boosting use of the facility, Downing says. The campaign, which includes a website, signage, and various wellness challenges, wraps all the resources for staying healthy and well into one message, providing students with a one-stop shop for health and wellness on campus. 
Welcome All Users
As student populations become increasingly diverse, providing options for specific student subgroups may be an important way to engage more students in wellness, says Watts. She notes one institution where a group of Muslim women requested occasional private pool hours so they could be comfortable exercising according to their religious beliefs and customs. With only minor tweaks to spaces and scheduling, leaders can work through such requests to provide spaces where all are comfortable, suggests Watts. 
At UNH, recreation staff members are continually working to refine and improve the space within Hamel Recreation Center so that it's welcoming and inviting for all members of the campus community, says Hall. Making the facility a place that everyone wants to use means incorporating accessibility elements, "preferably using universal design," he adds.
Expanding or retrofitting spaces to welcome more people and broaden focus on well-being doesn't have to be resource intensive. It may simply involve reimagining existing spaces to better embed within them wellness programming and health promotion, as well as increasing collaboration around these activities. Without large expenditures, institutions can be more mindful of the activities they offer and make strides in addressing the range of physical, emotional, and mental health needs of today's students—thereby setting them on the right course for success in the classroom and beyond. 
NANCY MANN JACKSON, Birmingham, Ala., covers higher education business issues for Business Officer.
Credit: Jeff Goldberg/Esto
Credit: Butler University
Credit: Steven Wein, University Student Union at CSUN
Credit: Steven Wein, University Student Union at CSUN