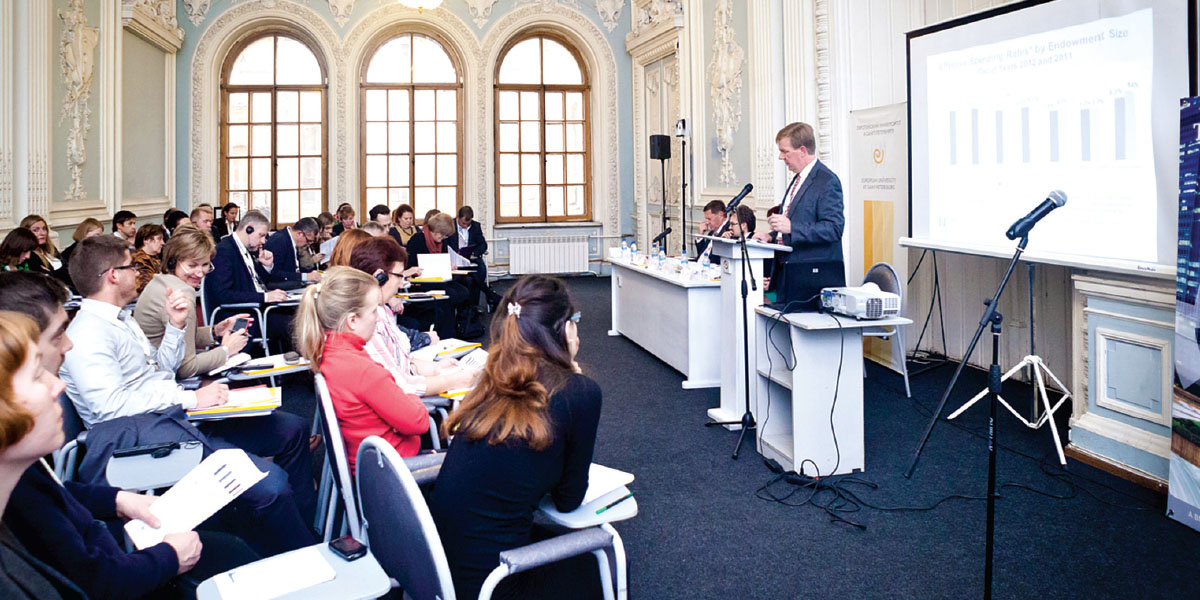 In an effort to expand NACUBO's relationship with higher education institutions and other organizations in Russia, Matt Hamill, senior vice president, advocacy and issue analysis, met with three different groups in Moscow and St. Petersburg during a five-day visit to Russia in October 2013.
Hamill spoke on philanthropy in the United States and its role in society at a conference attended by 200 people in Moscow and organized by the Russia Donors Forum, an association that aims at promoting charitable activities, and standards and ethics in the philanthropic field. Philanthropy is a growing area in Russia, where private wealth is accumulating in larger cities and individuals are becoming more open to giving. 
In another event in Moscow presented by the Endowment Club, whose members include organizations that have small endowments or are planning to set them up, Hamill discussed how endowments are organized in private and public sectors in the United States.
At a third event, Hamill spoke about governance and endowment management at a forum organized by the European University at St. Petersburg for all universities in that city.
NACUBO is exploring a possible visit by officials from Russian universities to meet university campus leaders and business officers in the United States. It is also looking into customizing existing NACUBO publications on endowments for use by Russian universities. For more information, contact Matt Hamill at mhamill@nacubo.org.  
---