As far back as 2004, leaders at Northern Kentucky University, Highland Heights, recognized that the interweaving of digital technologies (and more broadly, informatics) into fields as varied as cybersecurity and communication studies, was leading to isolated—or sometimes duplicated—programs in undergraduate studies. Such was the origin of a vision to create a single, "mind-catching" space that would enclose a college of informatics. Within the facility would be faculty offices, an advising center, research laboratories, and learning spaces for undergraduate and master's students.
Opening in October 2011, the Griffin Hall Center for Informatics fulfilled that dream. The center has created cohesiveness of the formerly isolated informatics departments and programs; greater connections for students with regional business partners in the field, enhancing a goal of "real world" experience; and opportunities for students to earn awards, internships, and even job offers. 
The center is one of a growing number of flexible learning spaces being developed by colleges and universities and is highlighted in greater detail in the Learning Spaces Collaboratory Guide (read more about the guide in "Classrooms in Wonderland").
Building as Playground
The three most obvious characteristics of Griffin Hall reflect its multiple purposes.
Informatics is a transdiscipline. Using space that is open, flexible, and conducive to collaboration, those studying journalism, for example, work and learn alongside prospective computer scientists.

 

The facility is cutting edge. The College of Informatics is outfitted with the latest technologies. Right now that means RFID (radio frequency identification), intelligent building systems, and digital media networks.

 

Learning relates to the real world. The five-story building devotes most of its third floor to the Center for Applied Informatics Mobile/Web Academy. Here, student teams can work on mobile applications for actual businesses, small start-ups, government entities, and nonprofit organizations. Flexible space includes areas where students and faculty can interact with community members and create useful networks.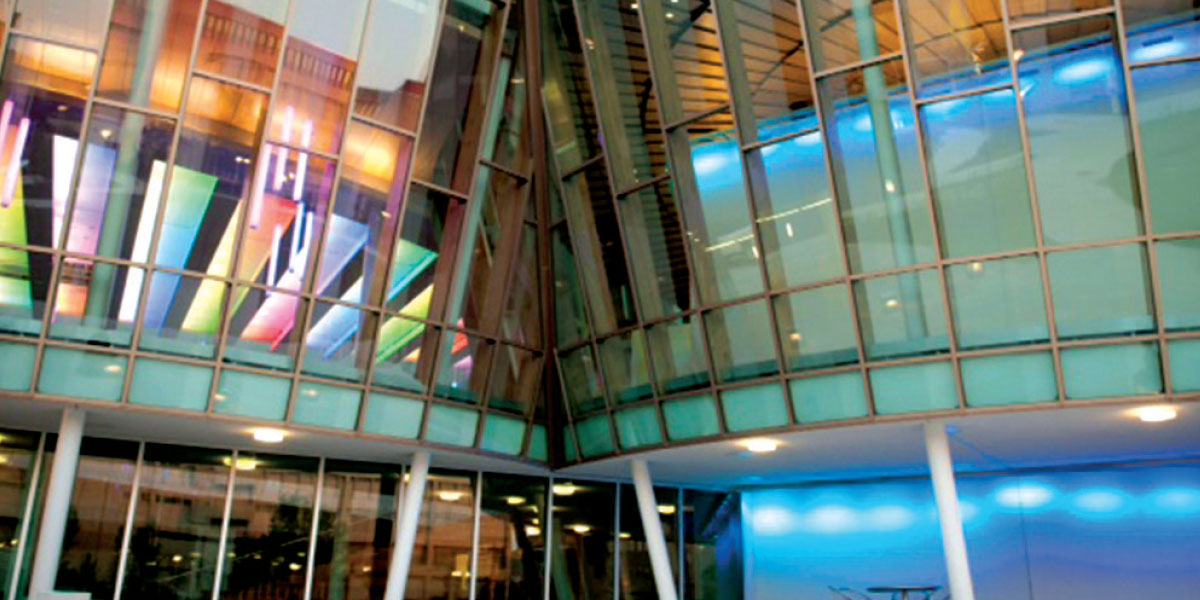 Learn by Doing
One priority for the center's alternative learning space is to provide the means to encourage students to transition from being digital technology consumers to becoming data analysts and content creators. The heart of Griffin Hall, the George and Ellen Rieveschl Digitorium, supports that goal with its two-story, 100-seat auditorium. Banked theater-style seating allows the audience to view a large rear-projection, high-definition video wall. 
Imagine a space with the ability to transform itself into everything from a digital opera house to a global command center. Students and instructors can adapt eight "opera boxes," isolated by glass doors, into space for small classes, student collaboration, or even seating that allows participants to view group activities or real-time situations. 
Tangible Evidence
How's the new facility performing as a learning space? The university reports the following: 
A surge in enrollment in its nine bachelor's and five master's programs, with 8 percent growth the first full year that Griffin Hall was open, and 31 percent growth by fall 2013.
Increased participation by external partners that work with students in the Center for Applied Informatics. Partners have included Procter & Gamble, Toyota, and dunnhumby.

 

The launch of the major start-up accelerator UpTech, designed to attract and support entrepreneurs who venture to contrive the next big idea.

 
Overall, Griffin Hall Center for Informatics has become a focal point for the university's efforts to engage broader groups of people with the informatics field. Nearly half our students are first-generation, and most commute to campus; some tell us that the building is an inspiring confidence builder and even a magnet for their studies. 
SUBMITTED BY Kevin Kirby, dean of the College of Informatics, Northern Kentucky University, Highland Heights 
Credit: Tim Sofranko, NKU